Clean coal seen likely to suffer delays in U.S.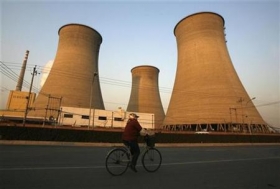 By Nichola Groom
INDIAN WELLS, California (Reuters) - Large-scale commercial implementation of clean coal-burning technology is likely five to 10 years away in the United States and could suffer delays due to the government's move last week to pull the plug on a planned project, the chief executive of the world's largest coal producer said on Thursday.
"What's occurred is probably going to result in delays, which is unfortunate," Peabody Energy Corp Chief Executive Gregory Boyce said of the co-called FutureGen plant that the U.S. Department of Energy pulled its support from due to ballooning costs.
A site in Mattoon, Illinois had been planned for the project and Boyce said in an interview at the Clean-tech Investor Summit in Indian Wells, California, that he and other investors in the project had thought it was close to getting started.
Now, the United States is likely five to 10 years away from having commercial-scale power plants that burn coal and sock away carbon dioxide emissions underground, he said.
"We are probably a couple of years away from having the large-scale demonstration projects," Boyce said. "And then beyond that, as we develop the regulatory framework, we are probably in the five to 10-year time frame from having large commercial-scale type programs taking place."
Peabody Energy is part of the 13-member FutureGen Alliance that includes U.S. utilities and coal producers, along with international miners Anglo American , BHP Billiton and China's largest coal-based power company, China Huaneng Group.
Going forward, Boyce said Peabody was also involved in clean coal projects in China and Australia. It also hopes to participate in the multiple projects the Energy Department has said it will fund in place of FutureGen.
"Our objective is to get these things developed as soon as we can," Boyce added.
(Reporting by Nichola Groom; Editing by Andre Grenon)