Norway keeps whaling quota, draws ire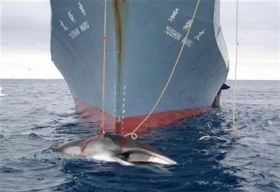 By Wojciech Moskwa
OSLO (Reuters) - Norway has set a commercial whaling quota of 1,052 minke whales in 2008, unchanged from last year, drawing criticism from environmental groups pressuring Oslo to join the international community and call off its hunts.
Norway is the only country to hunt the giant mammal commercially despite a two-decade-old moratorium by the International Whaling Commission (IWC). Iceland stopped in 2007, citing a lack of markets for whale meat.
Japan also catches hundreds of minkes each year but says it is for scientific purposes.
Last year Norway harpooned 597 minke whales, or 57 percent of its quota, and its kills have remained below quota ceilings since 2001, official figures show.
"We set quotas not according to what is likely to be caught but what is sustainable," Halvard Johansen, director at Norway's Fisheries and Coastal Affairs Ministry, told Reuters on Friday.
The ministry said in a statement that it sets quotas "conservatively," ensuring "complete safety in regard to conserving minke whale stock."
Minkes, which grow some 9 meters (30 feet) long, are not in danger of extinction. The latest IWC estimate said some 107,000 minkes live in Atlantic waters off Norway.
The ministry and whaling groups say rough seas, which make it difficult to spot whales, and high fuel prices have limited catches in past years. Groups such as Greenpeace say the underlying reason is that demand for whale meat has dropped.
"Despite marketing campaigns for whale meat, there are no indications that demand is going anywhere other than down," Greenpeace's Truls Gulowsen said. "The government's adherence to whaling is purely symbolic, giving the appearance of supporting embattled coastal communities on a high profile issue."
Johansen said that Norwegians had consumed all of the domestic whale catch in past years.
"There is very little whale meat in stores at the moment and reserves will run out before the new (whaling) season starts," he said. The whaling season runs from April to August.
Greenpeace and other anti-whaling activists say that Norway's defiance of the whaling ban makes little sense because its whaling sector employs only several hundred people, the majority on a part-time basis.
Johansen agreed the industry was small but added: "Whaling is part of our fishing tradition -- and we believe we have the right to use the resources available to us. And it is done according to the best scientific data to protect the species."
(editing by Elizabeth Piper)