Russia and U.S. must take lead on new arms regime: Ivanov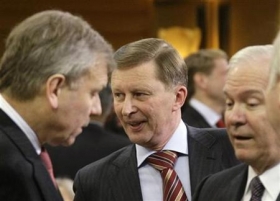 MUNICH, Germany (Reuters) - Russia and the United States must take leadership in discussions on a new international arms regime, Russia's First Deputy Prime Minister Sergei Ivanov said on Sunday.
Speaking at a security conference in Munich, Ivanov referred to the control and reduction of nuclear weapons, adding it was time to replace an existing SALT 1 arms limitation treaty with a new regime:
"As I see it, this is precisely an area of international relations where Russia and the United States not merely could, but are directly obliged to show leadership.
"Sooner or later, we will have to start working in a multilateral format since none of us here, I am sure, has any doubts about the importance of multilateral barriers to WMD (weapons of mass destruction) proliferation," he said.
(Reporting by Mark John; writing by Kerstin Gehmlich)