Schering shares jump after profit beats forecasts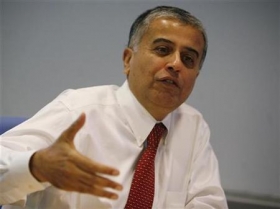 By Ransdell Pierson
NEW YORK (Reuters) - Schering-Plough Corp <SGP.N>, whose stock has been battered this year by a failed trial of its Vytorin cholesterol drug, reported a quarterly profit well above Wall Street forecasts thanks to cost controls, lifting its shares more than 5 percent.
First-quarter net income available to holders of its common stock was $253 million, or 15 cents per share, down from $543 million, or 36 cents per share, a year earlier.
Excluding charges related to Schering-Plough's $14.65 billion purchase in November of Organon BioSciences and other special items, Schering-Plough earned 53 cents per share.
On that basis, analysts polled by Reuters Estimates had expected 37 cents per share.
"Sales, general and administrative expenses and research and development costs together were $190 million below our forecasts," said Leerink Swann analyst Seamus Fernandez, accounting for most of the earnings beat, along with strong international performance.
Meanwhile, quarterly profits of British drugmaker GlaxoSmithKline Plc <GSK.L> fell 5 percent on tumbling sales of diabetes drug Avandia and on generic competition with other products, but the decline was less than analysts had feared.
"They still managed to maintain the top-line performance, which is testament to the resilience of their broad product portfolio," said ING analyst David Seemungal. Glaxo shares rose 1.6 percent in London.
Morgan Stanley analyst Jami Rubin said Schering-Plough's "blowout quarter" was due to improved profit margins that flowed from the rigorous control of spending.
The results also show Schering-Plough is integrating Organon BioSciences NV, acquired in November, at surprising speed, and is moving ahead in realizing $500 million in annual cost-savings the company expects from the deal, Rubin said.
But Deutsche Bank analyst Barbara Ryan was less enthused by the results, saying: "Schering-Plough is no longer a growth story, but a cost-cutting one."
Company revenue jumped 56 percent to $4.66 billion, above the Reuters Estimates forecast of $4.51 billion, bolstered by products acquired in the Organon deal.
Prescription drug sales totaled $3.6 billion, almost one-fourth of which came from newly acquired Organon products, including contraceptives and fertility medicines.
Sales of arthritis drug Remicade, which Schering-Plough sells outside the United States, soared 36 percent to $507 million.
REMICADE STANDS OUT
Fernandez said Remicade was the standout drug, with $37 million more in sales than he had expected.
Revenue from inhaled allergy treatment Nasonex rose 8 percent to $307 million, while sales of brain cancer drug Temodar jumped 20 percent to $236 million.
Schering-Plough sells Vytorin and another cholesterol fighter Zetia through a joint venture with Merck & Co <MRK.N>. Sales of the two drugs rose 6 percent to $1.2 billion during the quarter.
But they fell 5 percent in the United States amid the widely publicized failure of Vytorin to cut plaque in neck arteries in a study for which results were presented in January.
Shares of Merck and Schering-Plough, which garners most of its earnings from the cholesterol drugs, plunged after the failed trial, even though the study proved Vytorin highly effective in reducing bad "LDL" cholesterol.
"The major reaction to the trial has created a good opportunity to enter the stock, even with today's increase in share price," said Morningstar analyst Damien Conover.
Schering-Plough rose 93 cents to $18.07 in afternoon activity on the New York Stock Exchange, the top gainer among large drugmakers. But shares remain down 33 percent for the year to date and well below their 52-week high of $33.81.
Conover predicted they would rebound to more than $30 within two to three years, as sales of Remicade and other top company drugs continue to grow and other products are introduced.
Reeling from lower U.S. sales of its cholesterol medicines following the failed Vytorin trial, Schering-Plough earlier this month announced a program aimed at achieving total cost savings of $1.5 billion by the end of 2012.
Morgan Stanley's Rubin noted the cost savings seen in the first quarter are apart from those of that planned cost-cutting program.
(Reporting by Ransdell Pierson; Editing by Brian Moss and Gerald E. McCormick)