Leading brands call for action on climate change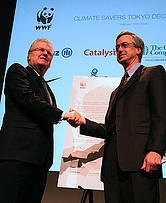 15 Feb 2008

Tokyo – Some of the world's leading businesses have come together to call for the world to take all necessary action to keep global warming below the dangerous threshold of 2 degrees Celsius.
The Tokyo Declaration, signed by 12 companies including Allianz, Sony, Nokia and Nike, was presented by Sony Chairman and CEO Sir Howard Stringer at the opening of the annual WWF Climate Savers Conference at Sony Corporation headquarters in Tokyo.
The declaration is the most far-reaching call to action yet to emerge from the business community, emphasizing that world's greenhouse gas emissions must be reduced by more than 50 percent by 2050, and that emissions must peak and start to decline within the next 10 to 15 years in order to stay below the threshold.
"At Sony, we believe that it is impossible for a business to flourish in a degraded environment," Sir Howard said. "For this reason we are committed to using our technological ability and know-how to reduce our impact on the planet, and to help our customers reduce their impact at home.
"We have always recognized that we have an obligation to act responsibly in all of our business activities to help minimize our environmental impact, and at the same time utilize our unique talents to help solve environmental problems together with our peer and our partners."
Like Sony, all of the signatories have pledged to match their call to action with commitments to reduce their own emissions in line with the commitments, to urge or in some cases require business partners to reduce climate pollution and to promote and enable a low-carbon lifestyle among their customers and consumers.
Many of the signatories already have impressive records of achievement in reducing their emissions as members of the WWF Climate Savers Programme, a business initiative introduced by WWF International to mobilize action on climate change. Under the programme, companies commit to sector leading emissions reductions targets and agree to independent verification of emissions reduction achievements.
"WWF's Climate Savers Programme and The Tokyo Declaration suggest the scope of the contribution business can make to successful action on climate change", said James Leape, Director General of WWF International.
"These companies are to be applauded, not just for the example they have set in reducing their own emissions, but also for their willingness to urge action on governments, the broader business community and their customers and consumers."
With the Tokyo Declaration, Climate Saver scompanies intend to emphasize the imperatives and benefits of early, voluntary and innovative action on climate change. The signatories are Allianz, Catalyst, Collins, Hewlett Packard, Nike, Nokia, Novo Nordisk, Sagawa, Sony, Spitsbergen Travel, Tetra-Pak and Xanterra.