Sony, others to step up fight against global warming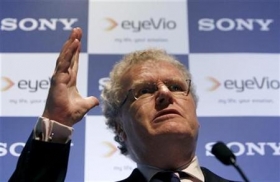 TOKYO (Reuters) - Sony, Nokia and 10 other global corporations said all necessary action should be taken to put a halt to global warming, and pledged they would step up their efforts to reduce greenhouse gas emissions.
In a "Tokyo Declaration" issued on Friday by the dozen companies partnering with conservation group WWF for emission reductions, they said they will expand the scope of their activities by involving their business partners and customers.
At electronics and entertainment conglomerate Sony, for example, one potential step would be working with transportation companies that handle the distribution of its products to help cut their emissions, a Sony official said.
Sony Chief Executive Howard Stringer said that despite the problems and crises that political and business leaders face today, they need to start acting immediately on the issue of global warming to avert the crisis of tomorrow.
"I went to Davos last month, originally expecting climate change will be the main focus of the World Economic Forum," Stringer told a news conference. "Instead, participants, unsurprisingly, were more preoccupied with the global financial meltdown than the meltdown of icebergs and glaciers."
Besides Sony and No.1 cell phone supplier Nokia, companies that signed the declaration include top PC maker Hewlett-Packard Co, athletic shoes and clothing maker Nike Inc and Novo Nordisk, the world's biggest maker of insulin.
(Reporting by Kiyoshi Takenaka; Editing by Jason Neely)