North Korean, U.S. nuclear envoys meet in Beijing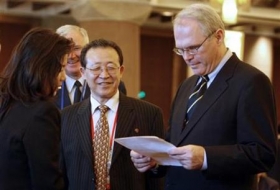 BEIJING (Reuters) - Nuclear disarmament envoys from the United States and North Korea met in Beijing on Tuesday, seeking to advance a stalled agreement to dismantle the North's atomic weapons program.
U.S. Assistant Secretary of State Chris Hill told reporters that his talks with his North Korean counterpart, Kim Kye-gwan, were "good, substantial discussions."
But Hill gave no sign of an immediate breakthrough in disagreements with Pyongyang, which has said it wants more energy aid and diplomatic concessions before it fulfills its pledge to fully disable its key Yongbyon nuclear site and declare all nuclear activities.
"We discussed ideas that China had had and how things could be moved, so it was a good, substantial discussion," Hill told reporters at Beijing airport before heading to Seoul.
"I think they (North Korea) understand our point of view, but won't have a complete and correct declaration until we have a complete and correct declaration."
Under disarmament terms announced in October last year, North Korea was offered 1 million tons of heavy fuel oil or equivalent aid, and the United States agreed to move to take the North from a sanctions list aimed at sponsors of terrorism.
In return, North Korea agreed to "disable" its Yongbyon nuclear facility and fully declare all nuclear activities by the end of 2007.
But those two steps have stalled after North Korean complaints that the energy aid and U.S. concessions were not coming soon enough.
North Korean officials appeared willing to proceed with disarmament steps, but only after their own demands were met, Siegfried Hecker, a Stanford University researcher just back from a visit to the North, said at the weekend.
North Korea held its first nuclear test blast in October 2006, alarming Washington and also Asian neighbors.
(Reporting by Chris Buckley and Ben Blanchard in Beijing and Rhee So-eui in Seoul; Editing by Ken Wills and Alex Richardson)