Wildlife trading ring "dismantled" on Sino-Russian border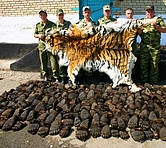 Key members of a smuggling ring trading tiger skins and bear parts into China will face trial in March after a 6 month operation in which WWF and TRAFFIC provided technical assistance to customs, police and navy officials in the Russian far east.
About 900 paws of brown and black bears, 4 tiger skins, more than 60 kilos of tiger bones and 531 saiga horns, valued at more than $US 200,000 were seized in three joint seizures by customs, police and navy services.
"This shows the immense damage being done to endangered species and nature by organized wildlife poaching and smuggling," said Sergey Aramilev, biodiversity conservation officer at WWF-Russia's Amur branch.
"This operation is also important in setting a precedent to fight the illegal trade from wildlife products. We cannot resuscitate killed animals, but we managed to stop a big contraband channel and enforce control on the Sino-Russian border."
The smuggling ring initially became known to authorities early last year, after officials became suspicious of a load of supposed potatoes being transported into China. Inspection revealed eight bags of bear paws, three tiger skins, several horns and fragments of different animals' carcasses.
Although the driver provided no information, police were able to identify first the details of the logistics on the Russian side of the smuggling operation. The key actor was then identified as a Chinese citizen with the Russian given name of Kolya.
Kolya was active in the Ussuriisk market, a key meeting venue for smugglers and poachers in one of Primorsky Province's principal cities. He also travelled to outlying districts finding operators to fulfil orders and dealing directly with poachers himself.
In March last year authorities were able to intercepted sledges with a cargo including 120 bear paws on frozen Khanka Lake, but members of the gang travelling with the sledges managed to escape on snowmobiles.
Telephone intercepts showed the two seizures had put the ring into difficulties with recipients in China, with a nervous Kolya being required to assemble a larger than usual shipment.
Authorities set up an operation, allowing Kolya's Russian partner to believe he had successfully "hired" road police to ignore the shipment and made similar arrangements for the border tracking system covering Khanka Lake to be switched off for a night in August 2007.
To make the crossing seem even easier, local military personnel were deliberately sent on a "training" exercise.
Riot squad police brought in from elsewhere then swooped on the smugglers while the load was being prepared for transhipment across the lake.
Other members of the gang not at the scene were arrested later. All face trial on charges of smuggling and illegal border crossing and face potential prison terms of 7 to 12 years.
During 2007, WWF regularly informed authorities of instances of illegal wildlife products destined for China from the Russian far east. WWF and TRAFFIC experts assist in the investigations of criminal cases and are available to advise on detained goods.
The August 2007 Khanka Lake seizures are among the most significant in recent years