Ag economist: World grain demand straining U.S. supply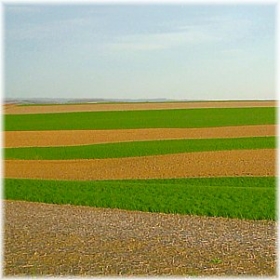 WEST LAFAYETTE, Ind. - Consumers usually reduce their purchases of goods and services if prices become too high. Buyers of United States corn, soybeans and wheat seem to be ignoring that economic principle, however, as the nation's grain stocks reach critically low levels, said Chris Hurt, a Purdue University agricultural economist.
With global demand for grain and oilseeds at record levels and a weak U.S. dollar, foreign buyers are outbidding domestic buyers for American grain. While the higher commodity prices are good for crop agriculture, there are disconcerting downsides, Hurt said.
"Food consumers worldwide are going to have to pay more," Hurt said. "We ended 2007 with our monthly inflation rate on food nearly 5 percent higher. I think we'll see times in 2008 where the food inflation rate might be as much as 6 percent.
"I also think we'll have discussions about food security in 2008. We'll have discussions about whether we should allow the foreign sector to buy our food. Is food a strategic item that we need to keep in our country?"
For some U.S. crops, it's almost too late. The 2007 U.S. wheat crop is virtually sold out, while domestic soybean stocks soon will fall below a 20-day supply. Corn inventories are stronger, but with demand from export markets, the livestock industry and ethanol plants, supplies also could be just as scarce for the 2008 crop. The condition could become more serious if adverse weather trims U.S. crop yields this summer and fall.
The situation is reminiscent of another run on U.S. grain one generation ago, Hurt said.
"This is a very rare circumstance," he said. "The last time we had this kind of uncertainty on food supplies was the early 1970s when the former Soviet Union became a major buyer of wheat in the United States. In the fall of 1972 they were such aggressive buyers that they essentially bought the pantry out of our available wheat supplies.
"In 1973 we also virtually ran out of soybeans. The U.S. Congress and president responded by saying we cannot let the rest of the world have our strategic food supply, so they embargoed all foreign soybean shipments until we could replenish the supply."
Hurt doesn't expect a similar export prohibition this year, but grain prices will have to keep climbing to slow the buying frenzy.
Recent cash prices for wheat, soybeans and corn are up dramatically from two years ago. Wheat prices have been near $10 a bushel, more than $6 a bushel higher. Cash prices for soybeans are about $13 a bushel, up more than $7 a bushel. Corn is pricing at near $5 a bushel, an increase of greater than $3 a bushel.
Despite the higher prices, wheat exports are 32 percent higher than one year ago, 33 percent of the U.S. soybean crop will be shipped out of the country and corn exports this year are on pace to break the 1979-80 record of 2.4 billion bushels.
Because of the devalued U.S. dollar, high prices haven't dissuaded foreign buyers from purchasing American grain, Hurt said.
"We've seen the relationship of the U.S. dollar to foreign currencies change substantially in the last few years," he said. "The European euro has increased in value relative to the U.S. dollar by 40 percent. What that means is that with the same number of euros, the Europeans can buy 40 percent more in the United States than they would have been able to buy three or four years ago.
"As an example, $12 soybeans in the Midwest are equivalent to something in the range of $9 to the world at this point. This suggests that the world will not cut back on grain usage as quickly, because as buyers purchase using their own currencies they are not experiencing as high a price as we perceive these prices to be in the United States."
It might take another month of grain price increases to get users to cut back, Hurt said. He estimated soybean prices could top $15 a bushel before all is said and done.
Farmland values and cash rental rates should continue rising as producers look to expand their crop acreage to meet the grain demand, Hurt said. He also expects agribusinesses - especially those that offer seed, ag chemicals, fertilizer, machinery and financial capital - to benefit.
The challenge to satisfy the world's hunger for grain promises to make for an interesting year, Hurt said.
"It turns out food is a security issue for every country of the world," he said. "World agriculture has been so productive in the past 60 years that general food shortages have been rare. With this long period of abundant food supplies, most of the world's consumers in developed countries have forgotten food's strategic nature. Given the world's appetite for basic crops, the hope for 2008 is for favorable yields throughout the globe that will give consumers and crop producers more time to adjust to this new high-demand era."