Magnitude 6.0 quake shakes corner of Nevada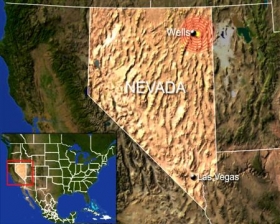 SALT LAKE CITY (Reuters) - A magnitude 6.0 earthquake struck near the town of Wells in northeastern Nevada at dawn on Thursday, shaking residents in their beds and causing some damage, the U.S. Geological Survey and residents reported.
There were no immediate reports of fatalities or injuries, but a Wells resident said that there were fires at the town grocery store and the truck stop.
Randy Bowers said he was working the overnight shift bartending at the town's 140-year-old brothel, Donna's Ranch, when he felt two powerful jolts and a third lighter one.
"The building is here, but everything else is demolished, everything inside is trashed," Bowers told Reuters by telephone.
"Stuff didn't fall off, it flew off," he added, noting that there were no customers in the brothel at the time and the "working girls were in their rooms."
The quake, earlier assessed by the USGS as a magnitude 6.3, was centered 11 miles southeast of Wells and struck at 6:16 a.m. PST, with a shallow epicenter of 6.2 miles (10km) deep.
A 6.0 earthquake is capable of causing severe damage, particularly when so shallow.
Wells is town of about 1,300 people, 382 miles north of the gambling center of Las Vegas. The Chamber of Commerce touts the town as a "perfect setting" for western and road movies.
Residents further away from Wells said they also felt major shaking.
"It lasted about 10-15 seconds," area resident Susan Shaw told Reuters by telephone. "I live about 20 miles from Wells and it shook the whole house. It was scary but there was no major damage."
Shaw, who works at a hotel in Elko, around 45 miles (72.5 km) from Wells, said the sidewalks were cracked outside the hotel.
There were no immediate reports of damage in the nearest large city, Salt Lake City, Utah, 180 miles to the east, although some residents were shaken by the morning quake, local radio said.
"I saw the window blinds and chandelier swaying," said Salt Lake City resident Dennis Lyman.
(Reporting by James Nelson in Salt Lake City and Mary Milliken in Los Angeles, Editing by Sandra Maler)