U.S. Air Force B-2 bomber crashes, pilots safe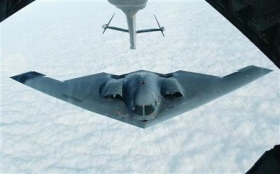 HAGATNA, Guam (Reuters) - A U.S. B-2 stealth bomber crashed at Andersen Air Force Base in Guam just after taking off but the two pilots on board ejected safely, the U.S. Air Force said.
"They have been evaluated by medical authorities and are in good condition," the Air Force said in a statement.
An inquiry will be held into why the aircraft, which cost almost $1.2 billion each, crashed, an Air Force spokesman said.
Guam, a U.S. Pacific territory within striking distance of regional hotspots, has had a bomber presence since March 2004 and B-52s, B-2s and B-1s deploy on rotation from bases on the U.S. mainland.
The aircraft which crashed was based at Whiteman Air Force Base in Missouri.
The B-2 bomber can evade most radar signals making it difficult for defensive systems to detect, track and attack. It has a range of 6,000 nautical miles without refueling, according to the Air Force.
The B-2 bombers have been used for missions in Afghanistan, Iraq and Serbia.
Guam has had a U.S. military presence to varying degrees since 1898, when U.S. naval forces captured it from Spain.
The Japanese occupied the island during World War Two but the Americans then built up an air base, which saw heavy action for bombing runs during the Korean and Vietnam wars.
The United States plans to move 8,000 Marines and 10,000 dependents from the southern Japanese island of Okinawa to Guam by 2014 as part of a global realignment of U.S. forces.
(Reporting by Jeremy Pelofsky in WASHINGTON and Maureen N. Maratita in HAGATNA; Editing by Sandra Maler and Alex Richardson)