Coen brothers win directing Oscar for "No Country"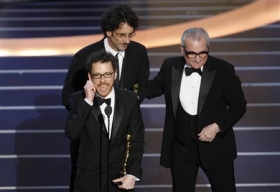 LOS ANGELES (Reuters) - Hollywood's establishment embraced two of the film industry's quintessential mavericks on Sunday as brothers Joel and Ethan Coen won a joint Oscar for their work directing "No Country For Old Men."
The Coen brothers, who earlier clinched an Oscar for the film's adapted screenplay, become only the second pair of credited filmmakers to share the Academy Award for best directing, following in the footsteps of Robert Wise and Jerome Robbins for the 1961 musical "West Side Story."
The Coens -- Joel, 53, and Ethan, 50 -- were considered clear Oscar favorites after sweeping the 2007 film honors of Hollywood's major talent guilds, including the Directors Guild of America. They got their first taste of Oscar glory 11 years ago with a win for their original screenplay for "Fargo."
But Sunday's Academy Award triumph represents the ultimate seal of Hollywood appreciation for the two auteurs, who have built their career and a loyal cult following as film industry outsiders.
"No Country" marks both a departure -- their first film based entirely on a novel -- and a return to form for the Coens with its tale of highly idiosyncratic characters caught up in events unleashed by nefarious plans gone horribly wrong.
Blending and bending elements of the thriller and western genres, "No Country" is a tale of fear, despair and moral decay wrapped in a terse and violent chase film.
One of the Coens' darker offerings, it stands as their biggest commercial success, grossing more than $92 million worldwide.
(Reporting by Steve Gorman; Editing by John O'Callaghan)