Top China plastic bag maker closes amid green drive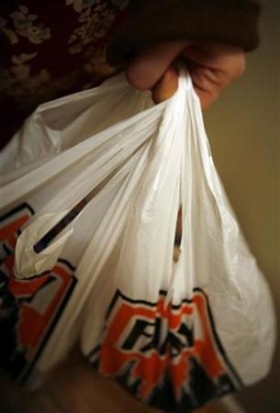 BEIJING (Reuters) - China's largest plastic bag maker has closed following a state-led environmental campaign discouraging plastics use, Xinhua news agency said on Tuesday.
China launched a surprise crackdown on plastic bags in January, banning production of ultra-thin bags and forbidding its supermarkets and shops from handing out free carrier bags from June 1.
Suiping Huaqiang Plastic Co, owned by Guangzhou-based Nanqiang Plastic Industrial Ltd. and employing 20,000 workers stopped production in mid-January.
"Our factory has officially closed, we are in the process of liquidation and there are very few people on hand," an employee told Reuters by phone.
The pressure from the crackdown proved too much for the plastics giant which produces 250,000 tons of plastic bags valued at 2.2 billion yuan ($305 million) annually.
"Over 90 percent of our products are on the limit list, so the only way forward for the factory is closure," a management official was quoted by Xinhua as saying.
Worries about pollution are growing among ordinary citizens, as years of breakneck growth take their toll on the country's air and water.
Chinese people use up to 3 billion plastic bags a day and the country has to refine 5 million tons (37 million barrels) of crude oil every year to make plastics used for packaging, according to a report on the Web site of China Trade News (http://www.chinatradenews.com.cn).
(Reporting by Beijing Newsroom; Editing by Nick Macfie and Alex Richardson)
$1=7.156 yuan