Turkish Cypriot leader says end to split in sight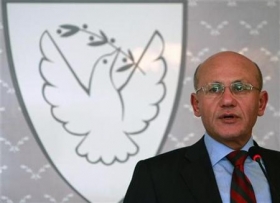 NICOSIA (Reuters) - Turkish Cypriot leader Mehmet Ali Talat said on Tuesday the election of a new Cypriot president offered a chance for relaunching reunification talks, that could come as early as April.
"A new phase of negotiations may start by about April," Talat told Reuters in an interview. "We have every reason to expect a solution by the end of the year."
Newly elected Cyprus President Demetris Christofias has pledged to re-launch efforts to reunite the ethnically divided Mediterranean island, a hurdle to Turkey's European Union accession hopes.
(Reporting by Simon Bahceli and by Dina Kyriakidou; Editing by Elizabeth Piper)