Samsung, Sony likely to spend $1.9 bln on LCD: source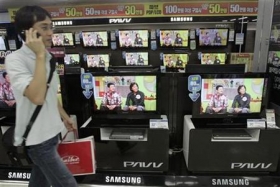 By Rhee So-eui
SEOUL (Reuters) - Samsung Electronics Co Ltd <005930.KS> and Sony Corp <6758.T> are likely to invest about $1.9 billion jointly in a new flat screen production line, a source at Samsung said on Tuesday.
The comment is the latest in a series of announcements from panel makers and sellers, underlining the robust outlook for liquid crystal displays (LCDs) as demand for sleek, stylish and increasingly inexpensive television sets rises.
Last week, Japan's Sony said it would take a one-third stake in Sharp Corp's <6753.T> planned $3.5 billion LCD plant.
The following day a source at Sony's South Korean LCD partner Samsung said the two firms were in the final stages of talks to jointly build a new LCD production line, soothing concerns that their alliance was in jeopardy.
"Negotiations are in the final stage and will be wrapped up soon," the Samsung source, who declined to be identified because he was not authorised to speak to the media, said on Tuesday.
"The investment size will be about that much," the source said, when asked about an earlier Nikkei business daily report saying the two were set to invest about 200 billion yen ($1.9 billion).
Sony is diversifying its panel suppliers in a bid to surpass Samsung, the world's top maker of LCD TVs in 2007.
The Samsung source declined to give an estimated timing of production and the output size. "It shouldn't be too late, but first we'll have to see the market conditions."
Sharp and Sony's planned new LCD plant will start operation in 2010.
Shares in Sony rose 1 percent to 4,820 yen in Tokyo, in line with the Nikkei 225 index's <.N225> 0.7 percent gain. Samsung rose 2 percent to 560,000 won in Seoul, beating the KOSPI's <.KS11> 0.5 percent advance.
LCD makers' ambitious plans contrast with the latest news from makers of plasma panels, a rival technology that dominated the flat screen TV market only two years ago.
Japan's Pioneer Corp <6773.T> plans to stop all production of plasma display panels, an industry source said on Tuesday, adding that it is likely to buy panels from Matsushita Electric Industrial Co <6752.T>.
Shares in Pioneer surged 13 percent to 1,178 yen.
Pioneer's plasma business has been struggling to compete with larger rivals with better production efficiency such as Panasonic maker Matsushita and South Korea's LG Electronics Inc <066570.KS> and Samsung SDI <006400.KS>.
Plasma, which was considered the cheapest and most available choice in the 40-inch flat-panel TV market in 2006, was overtaken by LCD as LCD makers ramped up large-size production, triggering steep price falls.
Plasma screens are recovering in the short term as flat-screen TVs are in a short supply, but many analysts say prospects after 2008 are limited, with newer, bigger LCD lines expected to flood the flat-screen market in 2009.
(Writing by Marie-France Han; Editing by Louise Heavens)