UK clears 3 wind farms in clean energy target chase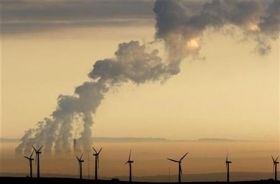 By Daniel Fineren
LONDON (Reuters) - British energy minister Malcolm Wicks has given the all clear to three wind farms in England as the government tries to clear a backlog of clean energy projects and hit ambitious renewable energy targets.
Two of the projects are onshore wind farms in North Lincolnshire and South Yorkshire, while the third is an offshore project planned for the Thames Estuary.
"These three new wind farms will add a further 215 megawatts of green energy to the renewables revolution that is sweeping through the UK," Wicks said in a statement.
Blustery Britain has huge wind power potential but local opposition and sluggish issuing of permits have left some 8,000 megawatts of projects mired in the planning system.
Even if wind farm developers do get permission, local opposition to onshore projects remains strong while on- and offshore projects still face grid connection problems.
Meanwhile turbines have multiplied across countries like Spain and Germany.
Britain got just 4.55 percent of its electricity from renewables in 2006, according to government figures.
Analysts are skeptical Britain will hit its own target of 15 percent by 2015 but the government insists it will.
"Real momentum for renewables in the UK is building...We have more than doubled the amount of renewable electricity, and this will triple again to 15 percent by 2015," Wicks said.
"We are on course to overtake Denmark next year as the world leader in offshore wind and we are reviewing our strategy to take us even further."
As part of European Union efforts to fight climate change, Britain must get 15 percent of all of its energy supply from renewables by 2020, which will require a much greater share of electricity generation coming from carbon free sources.
The latest permits are for an 85-MW onshore wind farm at Keadby, North Lincolnshire by Renewable Energy Systems, a 66-MW onshore park at Thorne, South Yorkshire planned E.ON UK Renewables and a 64-MW offshore plan by Denmark's DONG Energy for the Thames Estuary near London.