Ford's U.S. sales drop 12 pct led by trucks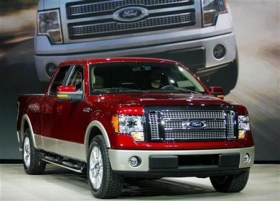 DETROIT (Reuters) - Ford Motor Co <F.N> on Thursday said its U.S. vehicle sales for April dropped 12 percent, including an 18-percent decline in truck sales.
The automaker said overall sales declined to 200,727 vehicles from 228,623 a year earlier, including sales for its Volvo, Jaguar and Land Rover brands.
Ford does not adjust its sales results for the number of selling days. On that basis, the Ford results would have shown a deeper percentage decline because there were two additional selling days in April this year compared with a year earlier.
(Editing by Maureen Bavdek)