Lead still a contender for hybrid cars: industry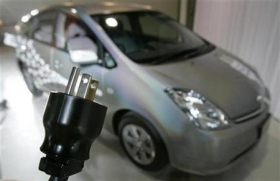 By Anna Stablum
LONDON (Reuters) - Lead is still in the race to make batteries for hybrid-powered vehicles, President Bruce Neil at privately-owned lead producer Doe Run told a conference on Monday.
Three kinds of batteries can power the new generation of environmentally friendly hybrid vehicles, but the one that wins is the one that has the best balance of price and performance.
"Lead-acid batteries still belong in the race," Neil said at a Metal Bulletin Conference in London.
Lead, nickel and lithium producers all want their share in the booming battery market supplying various hybrid vehicles.
"I know that in various places in the world tests are going on...we are at the beginning of a catch-up phase," Neil said.
"The results we are seeing are very favorable," he added.
Doe Run is a founding member of the Advanced Lead Acid Battery Consortium and in the United Kingdom the consortium recently completed a 100,000-mile (160,000-km) test drive of a Honda Insight with lead-acid battery power.
"This demonstrates that lead-acid is at least as durable as nickel metal hydride as well as more efficient and less expensive," Neil said.
A nickel metal hydridhydride battery can cost up to $4,000, where lead-acid batteries with comparable performance might cost $800, he said.
Hybrid vehicles using lead-acid batteries are not commercially fabricated and instead all commercial hybrid cars run on nickel-metal hydride batteries.
A lithium-ion battery has the same capacity but half the weight of lead, making the vehicle more fuel-efficient.
Critics say lead's heavier weight is its main drawback.
Doe Run accounts for some six percent of world refined metal production in 2007, according to figures from the International Lead and Zinc Study Group (ILZSG).
(Reporting by Anna Stablum, editing by Michael Roddy)