Flu drug makers change labels over behavior issue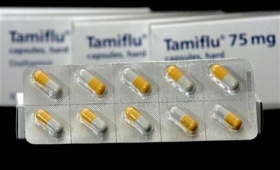 WASHINGTON (Reuters) - Roche Holding AG and GlaxoSmithKline PLC said on Tuesday they had added new labels to their prescription flu medicines that contain reports of abnormal psychiatric behavior in some patients.
A warning about cases of delirium and unusual behavior had been listed previously on Roche's drug, Tamiflu. That language was strengthened to say some of cases were fatal.
Roche's letter, dated February 2008, advises doctors of post-approval reports of patients who took Tamiflu and experienced behavior "leading to injury, and in some cases resulting in fatal outcomes," according to a notice on the Food and Drug Administration's Web site.
The revised label also notes, however, that influenza itself can cause various neuropsychiatric problems and "the contribution of Tamiflu to these events has not been established."
GlaxoSmithKline, meanwhile, said it had added a warning about delirium and abnormal behavior to the label for its flu drug, Relenza. That language also notes "the contribution of Relenza to these events has not been established."
Both drug labels say the cases "appear to be uncommon."
The companies said the revisions reflected recommendations made in November 2007 by an FDA advisory panel that reviewed the cases, which have been seen mostly in Japan.
At that meeting, FDA staff described reports of about 700 cases of psychiatric adverse events for both drugs and 25 cases of pediatric deaths in patients taking Tamiflu, reported to the agency through May 2007. No fatalities were reported for Relenza.
"The changes to the label reflect observations from a growing body of data, which shows no evidence of a causal relationship between Tamiflu and the reported adverse events," Roche said in a statement.
Glaxo spokesman Jeff McLaughlin said the company would also send a letter to doctors about the new warning on Relenza.
Patients with the flu should be closely monitored for signs of abnormal behavior, the drug labels say.
"If neuropsychiatric symptoms occur, the risks and benefits of continuing treatment should be evaluated for each patient," the labels recommend.
(Reporting by Kim Dixon and Lisa Richwine; editing by John Wallace/Andre Grenon)