Russia's Medvedev must guard freedoms: rights chief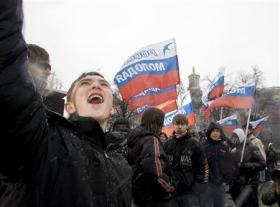 MOSCOW (Reuters) - Russia's human rights ombudsman said on Tuesday Dmitry Medvedev has to prove he can ensure freedoms when he takes over as Kremlin leader from President Vladimir Putin later this year.
Medvedev, elected president on Sunday with just over 70 percent of the vote, says he wants to ensure a civil society and make sure officials obey the law.
"He has said a lot to the fact that he values freedom and a reliance on the legal system. What remains to be seen is if this is carried out," ombudsman Vladimir Lukin, who has at times been critical about human rights abuses under Putin, told reporters.
"No small court in some small Russian region is going to act legally if it sees that more powerful government officials can get away with the kinds of violations that they do."
Lukin, a former historian and diplomat, is appointed by the Russian parliament.
Putin's opponents say the former KGB spy has pushed back democratic rights by centralizing power in the Kremlin and widening state control of television channels, though Putin has repeatedly said he values civil society.
Lukin criticized police arrests of activists who tried to gather in Moscow on Monday for an unsanctioned protest against Medvedev's election.
More than 300 riot police, sometimes using batons, detained scores of activists and dragged protesters to police buses, Reuters reporters at the scene said.
The authorities in the northern city of St Petersburg allowed a demonstration to go ahead peacefully.
"I can only say that the St Petersburg authorities followed the law, something unfortunately the Moscow police did not do," Lukin said.
He said his office received 28,617 complaints about rights abuses in 2007, down 12 percent over 2006.
(Reporting by Chris Baldwin, editing by Richard Meares)