Indonesians in Java village scared by seeping gas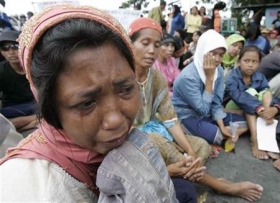 PORONG, Indonesia (Reuters) - Gas seeping from the ground in a village hit by a mud volcano in Indonesia's East Java province is triggering safety concerns and calls for an evacuation, residents said on Wednesday.
The gas is in an area where thousands of homes and factories have been submerged by hot mud since a mud volcano first started to erupt in May 2006, forcing about 15,000 people to abandon their homes.
"Every two or three days, people find gas flares, big and small," said Rahmat Sudirman, a resident in Mindi village, where a canal of mud passes on its way to the Porong river.
"In this village you could be burnt anytime unless we are relocated," added Sudirman. Another villager demonstrated the gas was inflammable by setting alight a leak causing a 20 cm (8 inch) high flame.
Some scientists say the mudflow in Sidoarjo regency, near the country's second biggest city, Surabaya, was caused by a gas drilling operation by PT Lapindo Brantas
Lapindo and PT Energi Mega Persada Tbk, which has a stake in Lapindo, dispute that the disaster, which started two days after a massive earthquake in Central Java, was caused by drilling.
Sudirman said that villagers marked the spot of new gas leaks by planting a piece of pipe to try and prevent people from setting the flares alight.
Ahmad Zulkarnaen, a spokesman for the government body managing the mudflow, said he was aware of the flaring gas, but that Mindi was not a village eligible under a government decree for compensation to pay for an evacuation.
"There are small scale gas eruptions, while the bigger ones have been marked by a police line," said the official, who said that the gas had been examined by FERGACO, a company contracted by Lapindo to monitor the air quality in the area.
The government ordered energy group Lapindo, which many people blame for the mud disaster, to pay 3.8 trillion rupiah ($418.5 million) in compensation to the victims and to cover the damage.
Authorities also said last week that an additional 700 billion rupiah would be set aside to compensate 10,000 more people in three more villages threatened by the mud volcano.
(Reporting by Retno Heriwati; Writing by Ed Davies; Editing by Alex Richardson)