Costco, BJ's quarterly profits rise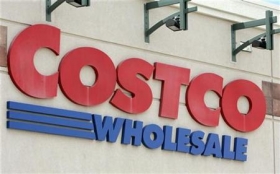 By Nicole Maestri
NEW YORK (Reuters) - Costco Wholesale Corp <COST.O> and BJ's Wholesale Club Inc <BJ.N> posted higher quarterly profits and better-than-expected February sales on Wednesday as the warehouse clubs attracted bargain-hunting U.S. shoppers looking for deals on food and fuel.
Big Lots Inc <BIG.N>, which specializes in sales of excess inventory, reported a better-than-expected profit as lower expenses helped offset lagging sales of toys and home goods.
Shares of Costco declined 2.5 percent, while shares of BJ's rose 10 percent and Big Lots jumped 22 percent.
Customers pay an annual membership fee to shop in Costco's and BJ's clubs, which sell everything from discounted TVs and jewelry to bulk-sized packages of toilet paper and soda.
The clubs also operates gasoline stations, a lure to shoppers looking to fill their cars with cheap fuel as the average price for unleaded gasoline hovers above $3 a gallon.
Warehouse clubs have been seen as a bright spot in the struggling U.S. retail sector as cash-strapped shoppers, worried about the weakening U.S. economy, have headed to the clubs in search of lower-priced food and gasoline.
"The combination of inflation and economic stagnation has families looking for ways to reduce expenses," said BJ's Chief Executive Herb Zarkin on a conference call with analysts.
COSTCO PROFIT JUMPS 31 PERCENT
Profit at Costco, the largest U.S. warehouse club operator, rose 31 percent to $327.9 million, or 74 cents per share, for the second quarter, ended February 17, from $249.5 million, or 54 cents per share. Its year-ago results included a charge of $84.4 million related in part to a stock options review.
The latest quarter's results met Wall Street analysts' average forecast for earnings of 74 cents per share, according to Reuters Estimates.
Sales rose to $16.62 billion from $14.8 billion, while membership fee revenue increased to $342.92 million from $307.32 million.
In February, its comparable club sales rose 7 percent, beating analysts' forecast for a gain of 6 percent, according to Reuters Estimates, helped by higher fuel prices and strength in foreign currency.
"I think they are doing quite a good job of delivering sales growth and keeping prices very competitive in order to do that," said Stephanie Hoff, an analyst with Edwards Jones.
She attributed the decline in its stock price to investor worry over its ability to improve margins and possible headwinds later in the year if its small business customers pull back on spending amid the tough economic climate.
Its shares fell $1.59 to $60.80 in morning trading.
BJ'S WHOLESALE POSTS HIGHER PROFIT
Meanwhile, No. 3 U.S. warehouse club operator BJ's Wholesale reported income of $50.24 million, or 80 cents per share, for its fourth quarter, ended February 2. That was up from $11.86 million, or 18 cents per share, a year ago when one-time items reduced the results by 40 cents a share.
BJ's, which operates 177 wholesale clubs, had forecast earnings of 70 cents and 74 cents per share, and it said it exceeded its forecast due to strong January sales, good merchandise margins, and lower-than-planned expenses.
BJ's is working to turn around its business after facing disappointing sales and declining customer traffic in recent years. Last year, it took charges for closing its two ProFoods restaurant supply locations and shutting in-store pharmacies.
Chief Executive Herb Zarkin has also been reducing the number of items that BJ's offers, and is stocking merchandise that either has better margins or sells faster.
Sales in the quarter rose almost 2 percent to $2.4 billion. Its February comparable store sales rose 5.9 percent, including the effects of higher gasoline prices. On that basis, analysts, on average, were expecting a rise of 4 percent.
Demand was strong for juices, frozen foods, health and beauty products, meat, prepared foods, TVs and toys, it said, but weaker for apparel, cigarettes, furniture, tires and wine.
It expects comparable sales to increase by 1 percent to 3 percent in March, and by 10 percent to 12 percent in April.
BJ's shares rose $3.28 to $36.56.
BIG LOTS SHARES JUMP
Big Lots is also in the midst of turnaround effort that has involved closing stores and revamping its merchandise. After acknowledging it strayed from its close-out roots, it is focused on getting existing customers to buy more in its stores, which has helped boost results.
Net income for its fiscal fourth quarter, ended February 2, fell to $92.02 million from $104.3 million a year earlier. But earnings per share rose to $1.04 from 94 cents per share, helped by a buyback that reduced outstanding shares.
Excluding a bankruptcy settlement, Big Lots reported income from continuing operations of 93 cents per share, compared with analysts' average forecast for earnings of 84 cents, according to Reuters Estimates.
Its gross margin rate fell 0.8 percentage point, hurt by markdowns, but expenses decreased, helped by lower insurance costs and lower bonuses.
For the first quarter, it expects comparable store sales to rise 1 percent to 2 percent, and income from continuing operations of 30 cents to 35 cents per share.
Its shares rose $3.89 to $21.27.
(Editing by Brian Moss)