Natixis posts fourth quarter loss of over $1 billion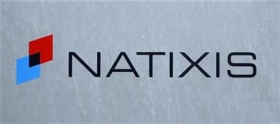 By Sudip Kar-Gupta
PARIS (Reuters) - Natixis <CNAT.PA> became the latest French bank to post a fourth-quarter loss on Thursday, battered by the credit crunch buffeting banks around the world.
Natixis, France's fourth-largest listed bank, made a net loss of 900 million euros ($1.4 billion) after booking 1.22 billion euros of writedowns over the year due to credit market problems caused by losses on U.S. subprime mortgages.
A year earlier, Natixis had a fourth-quarter net profit of 364 million euros.
Natixis shares, which had risen 5.1 percent on Wednesday, were down 4.1 percent at 9.45 euros in mid-morning trade.
Natixis Executive Chairman Philippe Dupont said market conditions remained uncertain, and investment bank Keefe, Bruyette & Woods Ltd said Natixis could announce further writedowns.
"I cannot say when this crisis will be over. We are not out of the crisis yet," Dupont told reporters.
Keefe, Bruyette & Woods (KBW) kept a "market perform" rating on Natixis, which was the worst-performing French bank stock last year.
"We remain cautious on the shares," it said in a research note.
FRENCH BANK'S LOSSES
The credit crisis has caused losses at some of the world's biggest banks, including France's.
Earlier this week Credit Agricole <CAGR.PA> posted a fourth-quarter net loss of 857 million euros, while last month Societe Generale <SOGN.PA> reported a record fourth-quarter loss of 3.35 billion euros, due mainly to 4.9 billion euros of trading losses it blamed on a rogue trader.
Natixis was created in December 2006 following the merger of Banque Populaire's Natexis investment bank with the IXIS investment bank of Groupe Caisse d'Epargne.
French mutual banks Banque Populaire and Caisse d'Epargne together hold around 68 percent of Natixis share capital.
The banks recapitalized the Natixis-owned CIFG bond insurer last year due to concerns about losses. Natixis chairman Dupont also said the bank was aiming to raise its cost savings target.
Based on latest prices, Natixis shares have fallen nearly 30 percent since the start of 2008, underperforming a 20 percent decline in the DJ Stoxx European bank sector <.SX7P>.
Natixis proposed a dividend of 0.45 euros.
(Editing by Dominique Vidalon/Will Waterman)