Tornado-Struck Kansas Town Aims to be Greenest in America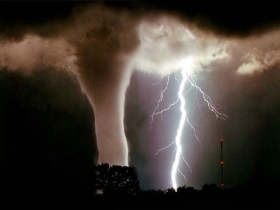 Tornado-Struck Kansas Town Aims to be Greenest in America
07/02/2008
The tornado that dropped Dorothy's Kansas farmhouse down in Oz may be the state's most famous storm, but Kansas has seen more than its fair share: Last May, a major storm spawned 123 separate tornadoes in that unlucky state. The worst one blew in at more than 205 miles an hour and touched down in the town of Greensburg, blowing it to bits. Eleven people were killed, and nearly all of the homes and buildings were reduced to rubble.
But now, as the residents of Greensburg slowly try to rebuild their devastated community, they've decided to transform it into a real-life Emerald City. As they work on bringing their damaged hometown back to life, they're aiming for the title of "Greenest Town in America."
To accomplish their inspiring eco-mission, they're planning to construct over a dozen LEED-certified buildings, which meet the country's highest standards of sustainability and efficiency, and to incorporate the use of wind power to provide electricity.
"This is an amazing opportunity," Daniel Wallach, founder of non-profit Greensburg GreenTown told Time Magazine. "It could be a living laboratory to demonstrate to the rest of the country and the world what a town of the future could look like."
Kansas isn't exactly known as Tree-Hugger Central, and some of the town's residents were resistant to the change. But as Wallach and his cohorts explained their plans for the town, just about everyone started to come around – especially since, as it turned out, going green can also be a lot easier on the wallet.
"Our old church sometimes cost up to $1,000 a month to heat," said Pastor Martin George. "Now, I'm not a tree-hugger by any means. But we have to be responsible for how we use natural resources, and be prepared for a future where energy costs are only going up."
Life may never be quite the same for residents of Greensburg, who lost their homes and possessions on that heartbreaking day. But through going green, they plan to come back better and stronger than ever before, and will serve as a community model for environmental activism.
If Greensburg can do it, then green is definitely mainstream," city administrator Steve Hewitt told Time. "The heart of America now gets it."