Iowa Community Goes off the Grid, and Keeps the Comfort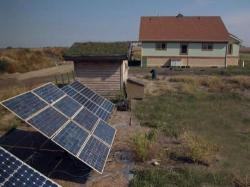 DES MOINES, Iowa -- Stacey Hurlin fondly recalls living on a seven-acre property in Fairfield, looking out her window at a pond, a large oak tree and rolling hills.
'It was just gorgeous,' she said.
She then describes the pioneering spirit it took to sell her 5,000-square-foot house, move to a much smaller home and join a community on the outskirts of town that embraces conservation over extravagance.
The subdivision in eastern Iowa is off the grid, relying on solar and wind power as well as its own water and sewer system. The infrastructure was already in place; all she and her husband had to do was buy the house and move in.
There was just one catch: a $35,000 one-time fee that covered utility maintenance for her 950-square-foot home and various community projects.
Hurlin doesn't regret the decision.
'It's remarkable how little we've had to compromise our lifestyle to live here,' said Hurlin, who moved to the $115,000 home nearly 2½ years ago. 'I can't say I'm living a sparse life. ... It's a lovely home.'
The community is called Abundance Ecovillage. Just like any other home, residents have running water, electricity and heat. The difference is how little impact the subdivision has on the environment.
The community — which has 14 houses either built or under construction — relies entirely on a wind turbine and solar panels for electricity, said Lonnie Gamble, the subdivision's founder. He said filtered rainwater and a pond provide water for the community, while a constructed wetland uses plants to break down and clean the sewage.
He said most residents have also installed energy-efficient appliances that have helped reduce their energy consumption by 90 percent. 'And their showers are just as hot and their beer is just as cold,' Gamble said.
Despite a national downturn in the real estate market, Gamble said interest in the community is growing. He said the first house was built in 2001 and the subdivision will eventually include about 30 homes. The homes normally cost about $120 per square foot, but the price depends on the developer, Gamble said.
Gamble acknowledged some people are hesitant about paying the community's $35,000 fee. He said he tries to explain the long-term benefits of the investment. Some buy in, others walk away.
'We do a lot better with the people who have educated themselves' about the village's benefits, he said.
Living off the grid remains rare in the United States, with about 180,000 homes in the movement. Most of those in Iowa are at Abundance Ecovillage, said Lynnae Hentzen, executive director of the Center on Sustainable Communities, a West Des Moines-based organization that promotes residential green building.
One of the country's largest off-the-grid neighborhoods is Three Rivers, a 250-home gated community in central Oregon that gets most of its power from solar panels.
Housing experts speculate that more Americans would pay more to live green if the opportunities existed.
'People want to be green and sustainable,' said Chris Scotthanson, owner of EcoDevelopments, a Langley Wash.-based real estate development firm specializing in environmental projects.
Scotthanson said change comes slowly to the housing industry but that the government could speed up the process by providing more incentives for banks to finance such projects.
'The market exists and we're not tapping into it,' said Scotthanson, whose firm is working on a proposed green community near Boston. 'A lot of developers are looking into it, wish they could make it happen, but they have to find a way to finance it.'
Gamble said it cost about $210,000 to get the first part of his subdivision built and that expansions have been funded through the $35,000 fees.
He said he didn't start the project for business reasons, but wanted to educate people about the possibilities of living off the grid and conserving the environment.
Gamble said word is spreading about the community, and tourists frequently visit to learn more. That's why the state has given the community a $109,000 grant to provide walking tours and build an education center, he said.
Hurlin said she enjoys the tourists, some of whom knock on her door to ask questions.
'They're curious,' Hurlin said. 'If it's a good day I'll invite them inside.'
She tells them the benefits of the community and notes she pays around $45 a month in utilities, about $245 less than in her previous home.
Hurlin now spends her spare time painting and looking out her window, no longer at the rolling hills of Fairfield but at the village's wind turbine. She finds the view just as rewarding.
'The potential is out there' to live green, she said. 'I'm delighted to be part of that vision.'