Bangladesh to buy 8 Boeing planes for $1.3 billion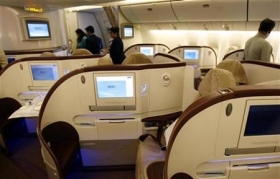 DHAKA (Reuters) - National carrier Biman Bangladesh Airlines said on Monday it agreed to buy eight Boeing <BA.N> aircraft worth nearly $1.3 billion as it looks to modernize its small fleet and fight off competition from local rivals.
Boeing had offered to supply the airline with four twin-aisle 777-300s by 2013 and four 787-8s Dreamliners by 2017, Biman Chairman Mahbub Jamil told a news conference.
"A deal will be signed with Boeing by March 15 as we need the aircraft to maintain our flight schedule," Jamil said without giving further details.
Biman was forced to halt its flights to New York, Paris, Tokyo, Frankfurt, Brussels, Yangon and Mumbai in 2006 due to a shortage of funds and aircraft.
Biman, which will fund the purchase through bank loans, plans to lease few aircraft to plug its scheduling gap before receiving the new planes from Boeing, Jamil said.
The loss-making airline is also reviewing a separate offer for planes from Europe's Airbus <EAD.PA>. "Airbus will make a presentation within the next 10 days," Jamil said.
Biman became a public limited company in July, still 100 percent state-owned, as part of a rescue plan by the country's army-backed interim government.
It flies 19 international routes with a fleet of 12 aircraft, but faces competition from four smaller, local private airlines, one of which has extended its operations to include regional routes connecting Bangladesh capital Dhaka to Kuala Lampur, Singapore, Delhi and Dubai.
Bangladesh and India have recently agreed to increase flight frequencies between the two countries.
(Reporting by Masud Karim, Writing by Nizam Ahmed, Editing by Ian Geoghegan)