British budget dismissed as pale shade of green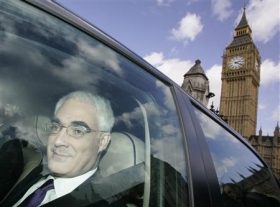 By Jeremy Lovell
LONDON (Reuters) - The government billed it as the greenest budget ever, but on Wednesday British finance minister Alistair Darling failed to deliver on most counts, climate campaigners said.
Darling announced an attack on plastic bags, plans to penalize the most polluting cars and reward the greenest through changes in car tax, tinkered with taxes on new green homes and said a climate levy on business would continue.
"We need to do more and we need to do it now," Darling said presenting his first budget. "There will be catastrophic economic and social consequences if we fail to act.
But he delayed a planned rise in duty on road fuel, backed further airport expansion -- aviation is the fastest growing source of climate changing carbon emissions -- and simply announced a fresh consultation on boosting renewable energy.
"Darling's safe pair of hands have dropped the ball on climate change," said Greenpeace director John Sauven.
WWF's chief climate campaigner Keith Allott said: "This budget contains some small potentially welcome tinkering but no big vision and no sense that this will do anything to put Britain onto a low-carbon trajectory."
Friends of the Earth chief Tony Juniper was equally scathing.
"This was billed as the greenest budget ever. But we didn't get anything like what is necessary to tackle what is the greatest challenge the world faces," he said.
Darling, whose room for maneuver has been restricted by a faltering economy and struggling government finances, said Britain wanted all future allocations of carbon emission permits to power generators to be auctioned.
The current phase of European Union emission permits for the power generators were all allocated free, handing them billions of pounds in profits as they passed on the notional cost of the permits in higher energy costs to consumers.
Darling also repeated the government's wish that aviation be included in the next phase of the EU's Emissions Trading Scheme.
In any case neither decision is up to the British government alone but must be agreed by all EU member states and at the
same time Darling said the government backed the planned expansion of London's Heathrow and Stansted airports.
"Despite all the pre-budget spinning from Treasury this was not a green budget and fell painfully short of what was required," said Russell Marsh of the Green Alliance lobby group.
"The chancellor says that our greatest obligation to future generations must be to tackle potentially catastrophic climate change, but there is nothing in this budget to indicate that he means it. This was just tinkering at the edges."
(Editing by Mike Peacock)