Carbon financing cuts smoke in Ugandan cooking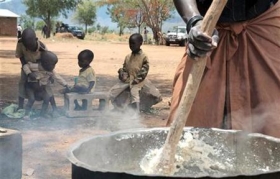 By Michael Szabo
COPENHAGEN (Reuters) - Ugandans are buying efficient cooking stoves which both cut air pollution and save forests, helped by cash from westerners keen to cut carbon emissions, project developers based in London and Kampala say.
Smoke-spewing charcoal stoves are used by up to 90 percent of households and businesses in Uganda, and local producers Ugastove say they can make them more efficient, and thereby cut emissions of the greenhouse gas carbon dioxide by 30 percent.
The stoves improve air quality inside homes and, by being more efficient, cut the strain on Ugandan forests considered critical to stabilizing Africa's already arid climate, said London-based Pioneer Carbon working alongside Ugastove.
"In the past 50 years Uganda has lost half its forests to deforestation, much due to charcoal production," David Mukisa, project director for Kampala-based Ugastove, told a Copenhagen conference on Wednesday.
Charcoal, made from ten times its weight in wood, comes from chopping down forests which are not subsequently replanted.
In addition, the kilns used to produce charcoal release large quantities of methane, a greenhouse gas about 20 times more potent than carbon dioxide.
Ugastove opened its factory in 2005 and now employs more than 50 people. The company's target is to sell 30,000 stoves annually over seven years from 2007, which would cut carbon dioxide emissions by around 74,000 tonnes per year.
Pioneer Carbon would sell those carbon reductions as offsets to people and companies in rich nations looking to offset their carbon footprints, and so make the project financially viable.
That cash injection helped Ugastove reduce production costs, thereby making the stoves more affordable for consumers whose average per capita income was $1,100 in 2007 (www.cia.gov).
"These stoves would not have been possible without carbon financing," said Tom Morton of Pioneer Carbon. "And these projects bring carbon finance down to a demonstrable, per-household level in developing nations."
PROJECTS
Ugastove is one of the first companies to introduce a so-called programmatic carbon initiative, which replicates projects some tens of thousands of times over large regions and sometimes across several countries.
Other programmatic projects currently being considered in developing nations include low-energy lighting and efficient refrigeration.
"For example, a low-energy lightbulb, which retails for around $2 and has an 8,000-hour lifetime, can save the same amount of energy produced by three-quarters of a barrel of oil," Morton said.
Ugastove is expanding its project to neighboring Kenya and Tanzania.
The company's emissions reductions are being certified by the Gold Standard, an international quality standard applied to carbon offsets which ensures social, economic and environmental sustainability.
Gold Standard credits sold in the secondary market can fetch up to 20 euros ($30.97) per tonne of avoided emissions.
"This project shows that it is possible to innovate while maintaining a high standard of environmental integrity," Michael Schlup, Director of the Gold Standard, told the conference.
"Projects like this provide a good story, and people like that."