Britain and France push EU to look at green tax plan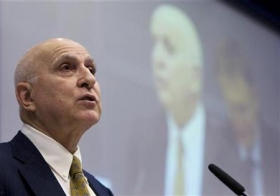 BRUSSELS (Reuters) - Britain and France pushed for the European Union to cut sales tax on green products on Friday even though the head of the European Commission voiced strong reservations about the idea.
"We are writing to you today to call upon the European Commission to include provisions for a new reduced VAT (value added tax) rate for environmentally friendly products," British Prime Minister Gordon Brown and French President Nicolas Sarkozy said in a letter to Commission President Jose Manuel Barroso.
They argued that the proposal could help EU countries meet their climate change goals as well as reduce energy consumption.
The two leaders sent the letter on Thursday before Barroso told a late-night news conference at the mid-point of an EU summit that some EU states rejected the Anglo-French proposal.
The European Commission has sole right to propose changes to the VAT system but unanimity among the bloc's 27 members is needed for proposals to become law.
Unabashed, British diplomats were still pushing on Friday to get the VAT plan mentioned in the summit's final statement. The proposal was "an important concept" that should be considered as part of climate change discussions, one British official said.
Brown suggested on Thursday that lower value-added tax on environmentally friendly fridges, dishwashers, electronic goods, cleaning materials, lightbulbs and insulation could spur people to buy products that use less energy.
"You can do something by tax incentives, by incentivising people to take the right steps," he said. "I think that could be a powerful lever for change."
"We are informed that some member states, they do not accept this idea," Barroso said on Thursday. "We have to make an impact assessment of that proposal to see exactly if it can work. There we have some doubts," he said, adding it was also unclear what would be the impact on tax revenue streams.
British diplomats said they would be satisfied with a commitment from the Commission to study the idea, which was first put forward by Britain and France last year but got nowhere.
A top Commission official told reporters in January there was no convincing impact assessment on the issue, citing the example of a push bike as a green form of transport but which is made of steel whose production affects the environment.
(Reporting by Adrian Croft, Huw Jones; Editing by Ruth Pitchford)