Shuttle crew prepares to leave station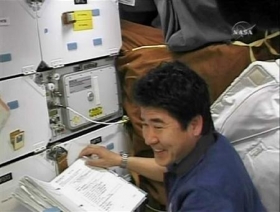 By Irene Klotz
HOUSTON (Reuters) -- Shuttle Endeavour astronauts on Sunday prepared to leave the International Space Station after a successful 12-day visit to install the first piece of a Japanese laboratory and assemble a Canadian maintenance robot.
The crew swapped spacesuits, leaving its newest gear and spare parts aboard the outpost, and packed up experiment samples for return to Earth. The shuttle is scheduled to depart the station on Monday.
For the first part of the day, the crew enjoyed time off.
"We had over 33 hours of spacewalking time (on this flight). It's great to see it behind us. The crew is due for a little rest," lead spacewalk officer Zebulon Scoville told reporters at Johnson Space Center.
On a spacewalk that ended on Saturday night, Robert Behnken and Michael Foreman performed chores that included Foreman checking out a balky rotary joint for one of the station's wing-like solar power panels.
NASA discovered metal shavings inside the mechanism last year and is trying to trace their source.
Space station flight director Dana Weigel said Foreman found no evidence that orbital debris had struck the joint, which eliminated one possible cause.
"That's a big help for us. That kind of narrows down one of the chains of the fault tree," she said.
The rotary joint was designed to keep the panel pointed at the sun to maximize electricity production, but has been locked in place to prevent further damage. However, the station is growing and its power needs increasing so NASA must soon make decisions about how to repair the joint, Weigel said.
"The first decision point is going to be the end of March," she said. One option is simply "to try to clean it up and live with it," Weigel said.
Endeavour, after a night launch from Kennedy Space Center in Florida, arrived at the space station on March 12 with the first piece of Japan's Kibo lab and with Dextre, the Canadian-built maintenance robot. The second of Kibo's three parts, the main laboratory, is scheduled to be transported to the station on a May shuttle flight.
The U.S. space agency plans to fly 10 more construction and resupply flights to the station as well as a mission to upgrade the Hubble Space Telescope before the shuttle fleet is retired in 2010.
Endeavour is due to land at the Kennedy Space Center on Wednesday.
(Additional reporting by Jeff Franks, editing by Todd Eastham)