Bird flu may mutate to human form in Indonesia: FAO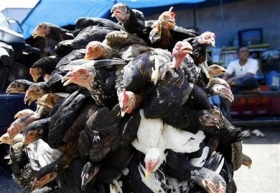 MILAN (Reuters) - The bird flu virus, widespread in Indonesia, could mutate and cause a human influenza pandemic, the United Nations' Food and Agriculture Organization (FAO) said on Tuesday.
"I am deeply concerned that the high level of virus circulation in birds in the country could create conditions for the virus to mutate and to finally cause a human influenza pandemic," FAO Chief Veterinary Officer Joseph Domenech said in a statement.
Avian influenza mostly attacks birds but its deadly H5N1 strain has killed 235 people around the world among 372 known cases since its outbreak in 2003 in Asia.
"The human mortality rate from bird flu in Indonesia is the highest in the world and there will be more human cases if we do not focus more on containing the disease at source in animals," Domenech said.
Bird flu has hit 31 out of 33 provinces of Indonesia with an endemic virus in Java, Sumatra, Bali and southern Sulawesi and sporadic outbreaks reported in other areas, Rome-based FAO said.
Despite major control efforts, Indonesia has failed to contain the spread of bird flu in poultry in the country where about 20 percent of 1.4 billion chickens are scattered in around 30 million backyards, Domenech said.
"We have also observed that new H5N1 avian influenza virus strains have recently emerged, creating the possibility that vaccines currently in use may not be fully protecting poultry against the disease," he said.
A highly decentralized administration, under-resourced national veterinary services, thin international and national financial and human resources for control campaigns are among the major problems that Indonesia has to deal with in fighting the virus spread, he said.