Paulson says GSE changes to aid mortgage market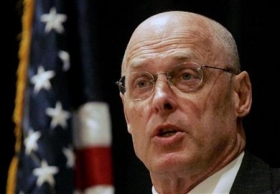 WASHINGTON (Reuters) - U.S. Treasury Secretary Henry Paulson said on Wednesday that changes to regulatory capital requirements for Fannie Mae and Freddie Mac will allow the two government housing finance enterprises to strengthen the U.S. mortgage market.
"Fannie Mae and Freddie Mac are significant participants in the mortgage market and I am encouraged that today's announcement will make more financing available in this area. Additional capital will enable the companies to help more homeowners and will strengthen the underlying fundamentals of the mortgage market," Paulson said in a statement.
The Office of Federal Housing Enterprise Oversight, the main regulator for the two government-sponsored enterprises, on Wednesday cleared them to buy up more than $200 billion more in mortgages and immediately reduced their excess capital requirements to 20 percent from 30 percent.
"Today's announcement also reaffirms the commitment of all parties to work toward comprehensive GSE reform legislation as soon as possible," Paulson said.
(Reporting by David Lawder; Editing by James Dalgleish)