Furniture Builder Makes Wind Farm Possible.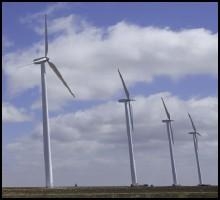 Renewable Energy Credits (RECs), at their core, create an opportunity for anyone to purchase, or make a contribution to, electricity generated from renewable sources whether or not the electricity is generated in their service area or the power grid their home or business is connected to.
RECs are also intended to be a source of funding for the construction of renewable energy projects. RECs, when invented, were meant to help lower the cost of renewable energy thus be an encouragement to build more capacity.
RECs have come under criticism as well. RECs are meant to help build new renewable capacity but can also be used to financially support existing renewable power operations. And that is where the rub lies.
If the renewable facility was built before the RECs connected to it were sold, and project financing didn't rely on the RECs for construction and subsequent operation, then it could be said that RECs weren't helping to add new renewable capacity: The project didn't need RECs to be built. RECs for those existing power plants would be an added bonus, not necessarily needed for operations. That rub has turned into a thorn in the side of RECs.
Now, for one wind project that thorn has been removed. Steelcase Inc., a global office furniture company, has become the first REC buyer to sponsor a commercial-scale wind farm by making the first known long-term purchase of all the RECs during a wind farm project's financing stage. That is, without the purchase of ALL the renewable energy credits RECs produced by the farm for at least the first five years of its operation, the wind farm might not have been built. Positively put, Steelcase is, in effect, building a wind farm to offset a portion of its energy needs to carbon-free renewable energy.
The power expected to be generated by the wind farm on an annual basis represents approximately 20 percent of the power Steelcase facilities require in the US, and equals more than three times the energy necessary to fully power the Steelcase global headquarters building in Grand Rapids, Michigan.
Since the 10-megawatt wind farm might not have been possible without the REC commitment from the company, Steelcase gets to name the project. It will be the "Wege Wind Energy Farm" in honor of Peter Wege, a Michigan environmentalist, Steelcase founding family member and former board member.
The Wege Wind Energy Farm is being developed by a landowner in Panhandle, Texas and John Deere Renewables, the wind-energy development unit of Deere & Co., better known for tractors and lawn and garden equipment. The eight turbine project will begin operations on or about May 1, 2008.  The wind farm is expected to generate 35,000,000 kilowatt hours of electricity each year -- enough to power 2,925 homes.
If there is a major problem with the RECs, also known as Green Tags, Renewable Energy Credits, or Tradable Renewable Certificates (TRCs), it's that the market for them is still small and not concentrated on particular projects to make them noticeable in the eyes of the electricity ratepayers, the business world and the public as a whole. Steelcase's effort concentrates RECs to build one wind farm. Other companies seeking to lessen their carbon footprint in a notable and noticeable way should follow Steelcase's example: Build a project with their name on it. Imagine if Ford or GM built a wind farm? That would be headline news.
Renewable Choice Energy put together the REC deal that made Wege possible. "By making an early and long-term commitment to this project, Steelcase has pioneered a new way to reduce our nation's reliance on fossil fuels," said Ted Rose, vice president of business development for Renewable Choice Energy. "It demonstrates how companies can leverage their environmental commitments to affect a massive change by directly participating in the realization of one project."
Renewable Choice Energy, of Boulder, Colorado, is full-service provider of renewable energy and carbon offsets. Clients include Whole Foods Market, Vail Resorts, hundreds of businesses and organizations, and thousands of individuals across the country.
Through John Deere Wind Energy, John Deere Renewables provides long-term debt and equity investment, comprehensive project development services, wind turbine supply and operations management for wind energy projects in the US and Canada. John Deere Wind Energy currently has more than 27 wind farms in operation or under construction in six states.
Steelcase, of Grand Rapids, Michigan and founded in 1912, designs and manufactures furniture and technology products.
Links:
Steelcase
http://www.steelcase.com
Renewable Choice Energy
http://www.renewablechoice.com
John Deere Wind Energy
http://www.johndeere.com/windenergy