Boeing delays 787 Dreamliner for third time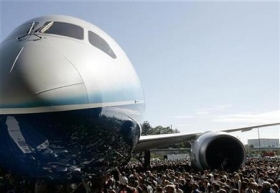 By Bill Rigby
NEW YORK (Reuters) - Boeing Co <BA.N> delayed its 787 Dreamliner for the third time on Wednesday, pushing the program about 15 months behind schedule, as it makes slow progress on assembling the revolutionary carbon-composite plane and continues to grapple with underperforming suppliers.
The delay was at the low end of Wall Street's expectations, as the U.S. plane maker had already admitted to problems with late redesigns of the new aircraft and the amount of work being done at its Everett, Washington, plant that should have been completed by suppliers.
Boeing shares, which had plunged 30 percent since last summer on worries about the 787, were up $3.69 or 4.9 percent to $78.71 in afternoon trading on the New York Stock Exchange.
"It appears that Boeing has finally produced a realistic timetable, even if first deliveries are now five quarters delayed from their initial schedule," said Michael Derchin at FTN Midwest Securities Corp in a research note. "Execution of the new plan is critical and any slippages from here would be negatively received."
The Chicago-based company is mirroring the costly and embarrassing problems at arch-rival Airbus, which ended up two years late with its A380 superjumbo.
Airbus, a unit of European aerospace group EADS <EAD.PA>, mostly suffered problems with wiring on its giant jet, whereas Boeing is struggling with a wider range of issues due to its global supply network.
Boeing's plan was to outsource almost all major manufacturing to outside companies and then assemble the plane in Everett. It has since found that such a decentralized structure makes it hard to keep a check on suppliers' mistakes and delays.
COSTLY COMPENSATION
Despite problems, the 787 is still the most successful launch in Boeing's history in terms of sales, racking up orders for 892 planes worth more than $145 billion at list prices.
The latest delay means Boeing will have to compensate airlines for late deliveries, but it hasn't put any figures on how much that could cost.
"It's too early to tell who will and who won't be affected by penalty payments," said Scott Carson, chief executive of Boeing's commercial airplanes unit, on a conference call.
He did not rule out the possibility that every one of the 892 787s on Boeing's order book could be delivered behind schedules agreed with airlines.
Carson said he expects Boeing to gradually ramp up production to 10 787s a month by 2012 -- about two years later than some suppliers have indicated was the original plan.
Under its latest schedule, Boeing has pushed back its target for the first test flight by at least three months, and postponed first deliveries by about six months, to give it more time to sort out production problems and deal with issues arising from the test flight process.
The first test flight is now expected in the fourth quarter of this year, as opposed to its previous target of late June 2008. It was originally planned for last summer.
The first 787 delivery, to Japan's All Nippon Airways Co <9202.T>, will now take place in the third quarter of next year, Boeing said, as opposed to its previous target of early 2009. The first 787 delivery was originally planned for May 2008.
HIGH CONFIDENCE
"Our revised schedule is built upon an achievable, high-confidence plan," Carson said in a statement, addressing Wall Street's concerns about Boeing's previously over-optimistic targets.
Boeing said it now expects to deliver only 25 of the new planes by the end of 2009, less than a quarter of its previous plan to deliver 109. Analysts, who lost confidence in Boeing's predictions months ago, had expected between 10 and 45 deliveries.
It left its financial forecasts unchanged for this year and said it will provide a forecast for 2009 when it reports quarterly earnings on April 23.
The plane maker also said its ramp-up to full-rate production would be slower than previously planned, and two variants of the plane would be rescheduled.
Under the new plan, the 787-9, a larger version of the standard 787-8, would be the first variant off the production line, with first deliveries in early 2012. The 787-3, a shorter-range version which was expected to enter service in 2010, will now be the second variant, with no date set for deliveries, Boeing said.
(Editing by Gerald E. McCormick and Maureen Bavdek)