Taiwan's Ma wins election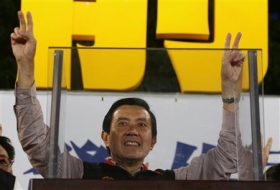 By Ralph Jennings
TAIPEI (Reuters) - Taiwan's main opposition Nationalist Party won the presidential election by a landslide on Saturday, heralding improved ties with giant neighbor China which claims the self-ruled island as its own.
But President-elect Ma Ying-jeou said he would only consider signing a peace deal with China, an offer Beijing has made with conditions, if it stopped aiming missiles at Taiwan.
China has claimed Taiwan as its territory since the end of the Chinese civil war in 1949 and has threatened to bring the island under its control -- by force if necessary. Taiwan says China has more than 1,000 missiles aimed at the island.
"Cross-Strait relations have stagnated, so we have to prioritize things," Ma told reporters after announcing his victory to thousands of supporters who screamed, blew party horns and set off fireworks in downtown Taipei. "First is normalization of (economic) relations, and then a peace agreement.
But, he said, "before we can talk about peace, we need to remove the threat."
Ma said he had no plans to go to China but hinted that he would visit other major nations before taking office on May 20. Japan and Singapore congratulated him on Saturday.
Chinese President Hu Jintao offered broad peace talks with Taiwan earlier this month, but under the so-called "one China" policy, which defines the island and the mainland as part of a single country, a concept Taiwan's current government rejects.
Ma also billed himself as an economic revival president amid inflation and wage concerns that analysts said swayed the vote.
"Our economic policy has three points," he said. "one is to love Taiwan, another is infrastructure and industry and a third is to reach out to the whole world."
The 57-year-old Harvard-educated former Taipei mayor won 58 percent of the vote, while the ruling Democratic Progressive Party's candidate Frank Hsieh got 42 percent.
"I am deeply sorry. This is my personal defeat, not Taiwan's defeat, so don't be sad," Hsieh said in front of supporters who cried and hung their heads as he spoke.
Ma's win comes after his party, which once ruled all China, clinched a more than two-thirds majority in legislative elections in January, giving it a clear mandate to push ahead with their policies to boost an economy that has lagged some Asian peers.
Voters chose a successor to President Chen Shui-bian, an anti-China firebrand who has repeatedly angered Beijing with pro-independence rhetoric.
Hsieh's DPP favors formal independence while Ma's Nationalist Party wants reunification once China embraces democracy.
As Chen's independence agenda has also upset Washington, Ma pledged "not to rock the boat in regional waters" but said he would recommend a China-related defense budget totaling about 3 percent of the GDP.
Ma would also consider accepting the recently rejected Beijing Olympics torch pending opinion polls and peace in riot-torn Tibet, his spokespeople said.
The election has drawn keen international attention, with the United States, Russia and Britain all criticizing referenda on U.N. membership, which were held alongside the vote and failed for lack of turnout.
But the foreign ministry said Taiwan was still "fully qualified" for a UN seat and that most citizens surveyed support joining the global body.
"While this marks Taiwan's third time to hold a referendum, the process is still new to the majority of the Taiwanese people, who still need to learn to take advantage of such opportunities to voice their opinions," the ministry said in a statement.
But U.N. membership is out of the question with just 23 countries recognizing Taiwan, and with China, recognized by 170 countries, a veto-wielding member of the Security Council.
The United States switched diplomatic recognition from Taiwan to China in 1979, under a "one China" policy, but remains the island's main arms supplier and No. 2 trading partner. Taiwan's official name is the Republic of China.
Two U.S. aircraft carriers are in the region for training exercises. China fired missiles into the Taiwan Strait in 1996, trying to intimidate voters during an election, but has kept a fairly low profile in the current race.
(Additional reporting by Taipei bureau; Writing by Ben Blanchard; Editing by Nick Macfie and Richard Meares)