Merrill Lynch launches global emissions index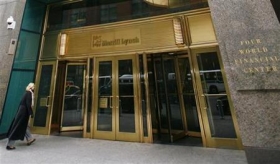 LONDON (Reuters) - The research arm of U.S. bank Merrill Lynch launched a global carbon index on Wednesday to track the international carbon markets, which were worth some $60 billion last year.
Merrill Lynch said its MLCX Global CO2 Emissions Index will allow investors to participate in the world's carbon markets, including the European Union's emissions trading scheme and emissions markets under the United Nations' Kyoto Protocol.
"The MLCX Global Carbon emissions indices... come in response to strong demand from our institutional, asset management, and wealth management clients who seek exposure to the rapidly growing global carbon market," Abyd Karmali, managing director and global head of emissions markets, said in a statement.
The European Union Allowances (EUAs) and U.N.-approved certified emissions reductions (CERs) are the most traded greenhouse gas credits, and will make up a respective 71 percent and 29 percent of the index.
"The weightings of the new MLCX Global CO2 Emissions Index are based on liquidity of the underlying instruments, a crucially important element for investors looking to gain exposure to a new and fast-growing market," head of global commodities research Francisco Blanch said.
(Reporting by Michael Szabo; Editing by William Hardy)