Greenpeace protests against Philips' recycling policy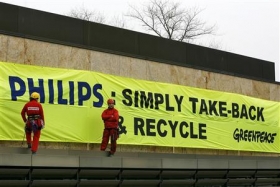 AMSTERDAM (Reuters) - Greenpeace activists placed an 8-meter (26-foot) robot made from electronics trash outside a shareholders meeting of shavers-to-lightbulbs group Philips on Thursday to protest against its stance on waste.
The protesters also climbed up the facade of the Amsterdam hotel where the meeting was taking place and unrolled a banner that read: "Philips: simply take back and recycle."
"Philips should take responsibility for its own e-waste," a Greenpeace spokeswoman told Reuters TV, referring to electronics waste.
"Philips has to set up collection systems in all countries where it puts products on the market. In this way, Philips can prevent the e-waste ending up in developing countries."
Greenpeace wants companies to be financially responsible for discarded products made by them, arguing this will be an incentive to make goods that contain less toxic material and are easier to recycle.
Philips, whose product line includes televisions, electric toothbrushes, shavers, music players and kettles, argues that the recycling of waste is not something that manufacturers alone should be expected to tackle.
The company's chief executive, Gerard Kleisterlee, told the shareholders meeting that Philips believed that part of the responsibility should be born by consumers and governments.
Kleisterlee noted that Philips was the leader in the Dow Jones sustainability index for personal and household goods.