Deforestation-Carbon Markets Research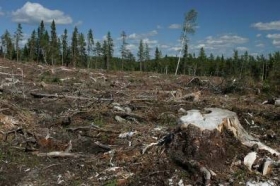 Finding ways to include deforestation abatement projects into the UN's Clean Development Mechanism (CDM) and private sector emissions trading schemes such as the EU's ETS– thereby providing a market-based mechanism that offers an incentive and financing to jumpstart forest conservation initiatives – is one of the Intergovernmental Panel on Climate Change's priorities.
Fossil fuel use and land use change account for roughly 1/5 of total anthropogenic greenhouse gas emissions, according to the IPCC's 2007 assessment report. Researchers at the Centre for European Economic Research in Mannheim, Germany have put out a discussion paper that evaluates the economic implications of creating tradable carbon credits, such as CDM CERs (Certified Emissions Reductions), derived from reduced deforestation projects for the post-Kyoto emissions market in 2020.
Write "Reducing Deforestation and Trading Emissions: Economic Implications for the Post-Kyoto Carbon Market" authors' Niels Anger and Jayant Sathaye, "We find that integrating avoided deforestation in international emissions trading considerably decreases the costs of post-Kyoto climate policy – even when accounting for conventional abatement options of developing countries.
"At the same time, tropical rainforest regions receive substantial net revenues from exporting carbon-offset credits to the industrialized world. Moreover, reduced deforestation can increase environmental effectiveness by enabling industrialized countries to tighten their carbon constraints without increasing mitigation costs."
Tropical Foresters to Meet at Yale
Meanwhile, the Yale University chapter will be hosting the International Society of Tropical Forester's annual conference in New Haven March 28-29.
The potential impacts of bioenergy and deforestation on tropical landscapes, both of which hold the potential to offset carbon emissions, would have significantly different impacts on land uses, according to the organizers, hence discussions will focus on questions such as whether bioenergy will be a tool for tropical forest conservation or a catalyst of its destruction and whether biofuel production and deforestation are compatible.