Government waives obstacles to border fence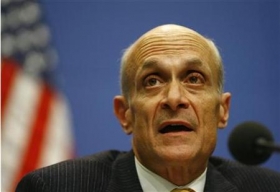 By Randall Mikkelsen
WASHINGTON (Reuters) - The U.S. government waived environmental and other regulations that it said on Tuesday threatened to delay completion of nearly 500 miles of a planned barrier fence along the border with Mexico.
Homeland Security Secretary Michael Chertoff, who has chafed at obstacles to the controversial barrier project, issued the waivers for stretches of land in California, Arizona, New Mexico and Texas. The fence is intended to deter illegal crossings by immigrants, drug runners and others.
"Criminal activity at the border does not stop for endless debate or protracted litigation," Chertoff said in a statement. "Congress and the American public have been adamant that they want and expect border security. We're serious about delivering it."
Illegal immigration is a major issue in this year's presidential and congressional election campaigns. Opponents of the fence include landowners reluctant to surrender their property and environmentalists concerned the barrier would threaten fragile habitats and rare animal species such as the ocelot.
Chertoff has three times previously issued waivers to bypass environmental restrictions to the fence project, using authority granted by Congress in mandating the fence.
The Homeland Security Department said one of the new waivers applied to various projects across 470 miles in the four states bordering Mexico. It will facilitate construction of fencing, towers, sensors, cameras, detection equipment and roads.
The other waiver applies to a 22-mile levee and border barrier project in Hidalgo County, Texas.
The department said a "substantial portion" of the land covered by the waivers had already undergone environmental reviews and the rest would be reviewed before construction begins. "The department remains deeply committed to environmental responsibly," it said.
Tuesday's waivers do not apply to lawsuits filed by landowners contesting the department's right to survey their property for fence construction, department spokeswoman Laura Keehner said.
A U.S. judge's ruling last month -- that the Homeland Security Department must negotiate with landowners before condemning their property for survey rights -- threatened to delay construction on some portions of the fence.
Keehner said the department remains on track to completing the planned 670 miles of fencing by the end of this year. Some 309 miles of the fence have already been built.
A government report, however, has said the legal disputes could threaten the timeline.
The fence project also has been marred by problems in a 28-mile high-tech "virtual fence" intended as a pilot for technology to be widely used along the border.
(Editing by Mohammad Zargham)