Queen Elizabeth's husband hospitalized with infection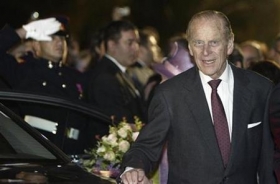 By Paul Majendie
LONDON (Reuters) - Queen Elizabeth's 86-year-old husband Prince Philip has been taken to hospital with a chest infection, Buckingham Palace said on Friday.
The blunt-talking prince, who the palace said was working from his hospital bed, has been an energetic figure in the House of Windsor for more than six decades.
He was admitted to hospital on Thursday afternoon after suffering from a heavy cold. He was able to walk into the building and has been working on correspondence and making phone calls from his hospital bed, the palace said.
A palace spokeswoman said: "The Duke of Edinburgh has been admitted to King Edward VII Hospital (in central London) for assessment and treatment for a chest infection."
The spokeswoman said it was not clear how long he would stay in hospital or whether any members of the royal family will be visiting him. All his official engagements have been cancelled for the weekend.
Prince Philip has attracted unwelcome headlines over the past six months at the inquest into the death of his former daughter-in-law Princess Diana, who died in a 1997 Paris car crash with her lover Dodi al-Fayed.
Dodi's father, luxury storeowner Mohamed al-Fayed, alleges that his son and Diana were killed by British security services on the orders of Prince Philip.
In an emotional outburst in court, al-Fayed called Prince Philip a "nazi" and a "racist."
But Lord Justice Scott Baker, presiding judge at the inquest, said there was "not a shred of evidence" to back al-Fayed's conspiracy theories.
When sending the jury out on Wednesday to consider their verdict, he specifically told them they could not decide that Diana and Dodi's deaths were a staged accident.
Last week Queen Elizabeth and Prince Philip hosted a state visit to Britain by French President Nicolas Sarkozy and his new wife, model-turned singer Carla Bruni.
But he failed to attend a service this week at Windsor Castle's St George's Chapel in memory of Sir Edmund Hillary, conqueror of Everest at the time of Queen Elizabeth's coronation in 1953.
Over the years, Prince Philip has won notoriety for causing offence on tours.
He told British students in China: "If you stay here much longer, you'll be slitty-eyed." He asked Aborigines in Australia if they still threw spears at each other.
While on a tour of a company near Edinburgh, Scotland, he saw a poorly wired fuse box. "It looks as though it was put in by an Indian," he remarked.
(Reporting by Paul Majendie and Avril Ormsby; editing by Philippa Fletcher)