Bush among friends on trip to NATO invitee Croatia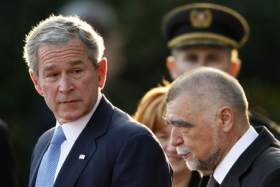 By Matt Spetalnick
ZAGREB (Reuters) - President George W. Bush lauded Croatia as a close and trusted ally on Friday at the start of a visit to NATO's newest recruit in the Balkans.
"You said you are from a small country," Bush told Croatia's President Stjepan Mesic in a toast. "I am impressed by the big hearts ... and the big basketball team," Bush quipped.
The visit to Croatia, aided by the United States in the final phase of its 1991-95 war for independence from Serb-dominated Yugoslavia, puts Bush among grateful Balkan allies with no controversial issues to be thrashed out.
Croatia was the first country to challenge the supremacy of U.S. pro basketball, in the Barcelona 1992 Olympic Games.
Mesic thanked him for his support for Croatia's bid to join NATO and the European Union.
"By winning the invitation, we have taken a decisive step towards NATO membership. I am convinced our EU negotiations will also successfully resume, after a short pause," he said.
Bush paid tribute to Croatia's contribution of some 200 troops to the NATO force in Afghanistan. "I appreciate friends who stare evil in the face and understand there's a better tomorrow," he said. "We are honored to be your trusted ally."
The 24-hour visit gives Bush an interlude between a busy three-day NATO summit just concluded in Bucharest, Romania, including substantive talks with Russian President Vladimir Putin, and a second round with Putin at the Russian leader's Black Sea holiday home over the weekend.
AMONG BALKAN FRIENDS
Bush was due to deliver a speech to the Croatian people on Saturday in the capital's historic St. Mark's Square, in the company of the presidents of Albania and Macedonia.
Croatia and Albania received formal invitations to join NATO at the summit but Greece vetoed an invitation to Macedonia because of their long-running dispute over its name -- the same as Greece's northern province, home of Alexander the Great.
Bush on Thursday expressed regret the summit had been unable to embrace all three Balkan republics at once, saying: "The name issue needs to be resolved quickly."
Macedonian analysts said the setback could destabilize the republic, which came close to all out civil war in 2001 when Albanian guerrillas fought government forces for six months, until NATO and EU diplomatic intervention brought peace talks.
Bush's motorcade cruised down the streets of Croatia's capital, Zagreb, past police and sparse crowds. A few hundred protesters demonstrated peacefully against Bush's policies, well out of sight of the presidential visitors.
He was greeted by an honor guard at the palace of Mesic, where a roaming peacock called from a balcony before the Croatian head of state came out to greet his guest.
"Soldiers, I salute you," Bush told the guard in Croatian.
Bush has commended Croatia for its democratic reforms since independence and its example to other formerly communist states in the fragile Balkans region.
The United States recognized the creation of the latest Balkan republic in February, when Kosovo's ethnic Albanian majority declared independence from Serbia.
Serbia, whose prime minister Vojislav Kostunica is openly hostile to NATO, bitterly opposes the secession of its southern province. It is backed by Putin in its determination to overturn Kosovo's recognition by major NATO and European Union powers.
After a 90-minute meeting with Putin in Bucharest -- intended to thaw Moscow-Washington relations chilled by a range of issues including Kosovo -- NATO leaders said the mood was positive, but they reported no breakthroughs.
(Additional reporting by Zoran Radosavljevic and Igor Ilic. Writing by Douglas Hamilton; Editing by Matthew Jones)