Head of U.N. climate panel to seek new term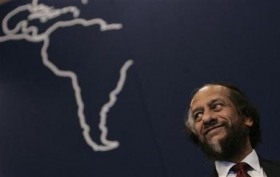 By Alister Doyle, Environment Correspondent
OSLO (Reuters) - India's Rajendra Pachauri said on Saturday he will seek a new six-year term as head of the U.N. climate panel that shared the 2007 Nobel Peace Prize with former Vice President Al Gore.
"I have after a great deal of reflection and consultation decided to express interest in a second term," Pachauri, 67, told Reuters.
"Of course, the government of India would have to send in my nomination, and I hope that will happen soon," he wrote in an e-mail.
Elected in a controversial vote in 2002, Pachauri has in the past said he was undecided about whether to seek a second term as chairman of the Intergovernmental Panel on Climate Change (IPCC) in a vote due later this year.
Pachauri has no clear rivals and U.N. officials believe that Pachauri, who is head of Tata Energy Research Institute (TERI) in New Delhi, is likely to win re-election after successfully guiding a giant 2007 IPCC report.
Drawing on the work of 2,500 leading climate scientists, the IPCC said last year that it was "very likely," or at least 90 percent certain, that human activities led by burning fossil fuels were causing global warming.
It said quick action to avert the worst effects -- such as more droughts, heatwaves, melting glaciers and rising sea levels -- would not derail world economic growth.
Pachauri was elected as chair of the IPCC in a 76-49 vote in 2002, with the backing of developing nations and of U.S. President George W. Bush, over the former IPCC head, British-born U.S. scientist Robert Watson.
Gore at the time criticized Pachauri as the 'let's drag our feet candidate' who would get little done compared to the blunt-speaking Watson.
Gore has since apologized for his criticisms of Pachauri. Many scientists and diplomats say Pachauri has been far tougher in warning of the risks of climate change than the Bush administration apparently hoped.
The IPCC, founded by the World Meteorological Organization and the U.N. Environment Programme in 1988, will hold a meeting in Hungary next week to start planning for new work.
It has produced overview climate reports in 2007, 2001, 1995 and 1990. The conclusions are approved by scientists and by more than 130 member governments.
Some governments want more frequent updates and specialist reports, perhaps about the thaw of ice in the polar regions.
Spurred by the IPCC's warnings, governments agreed in Bali, Indonesia, in December to work out a new climate treaty by the end of 2009 to succeed the Kyoto Protocol.
Kyoto binds all developed nations except the United States to curb emissions by 2012. Bush said Kyoto would cost too much and wrongly omitted targets for developing nations such as China and India.
-- For Reuters latest environment blogs click on:
http://blogs.reuters.com/environment/
(Editing by Caroline Drees)