Energy Secretary says pump price may hit $3.50/gallon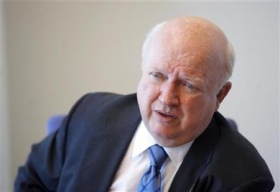 By Chris Baltimore
WASHINGTON (Reuters) - Energy Secretary Sam Bodman said on Monday he is concerned that average U.S. gasoline pump prices could hit $3.50 a gallon this summer, and said he is "optimistic" that OPEC will come to the rescue of U.S. drivers.
The U.S. retail price of gasoline set a new high of $3.29 a gallon last week, and some analysts say prices could hit the $4 mark this summer as U.S. families take to the highways for vacation travel.
"I'm concerned that we could hit $3.50" per gallon, Bodman told reporters at an energy conference hosted by the Energy Information Administration. "I would like to think that we're not going to get to $4 (a gallon) but I don't make forecasts -- whatever it is, it is," Bodman said.
Soaring pump prices this summer will reduce U.S. gasoline by 85,000 barrels per day versus a year ago, according to EIA administrator Guy Caruso.
"We see a slowdown in gasoline demand," Caruso told -reporters. The EIA -- the Energy Department's statistical arm - predicts that prices could average above $3.60 a gallon this summer but will not top $4 a gallon on a nationwide basis.
The EIA will release a closely watched report on summer driving demand on Tuesday.
As oil prices climb toward their March 17 record high of $111.80 a barrel, OPEC has continued to view the market as well-supplied even as the United States -- the world's biggest oil consumer -- calls for more supplies.
"I have repeatedly asked that there be an increase," Bodman said. "They have so far chosen not to do it. I remain optimistic."
U.S. President George W. Bush called on OPEC to boost supply earlier this year when he visited Saudi Arabia -- the cartel's de-facto leader.
OPEC Secretary-General Abdullah al-Badri on Monday said the producer's group is under no pressure to boost capacity, and blamed high prices on a falling U.S. dollar, tight refining capacity and geopolitical tensions. OPEC countries produce about 40 percent of the globe's oil supply.
The EIA's Caruso said OPEC needs to boost supply. "We think the market is still very tight," he said.
Bodman also said the Energy Department could move forward this summer with a plan to purchase $584 million worth of crude for the reserve to help replace 11 million barrels of oil sold to refiners after the 2005 hurricanes.
(Additional reporting by Tom Doggett in Washington, editing by Matthew Lewis)