Most high blood pressure in developing world: study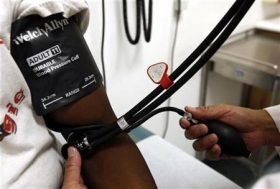 WASHINGTON (Reuters) - More than 80 percent of high blood pressure disease occurs in the developing world, and mostly among younger adults, researchers said on Thursday in a report that belies the image of hypertension as a disease of harried, overfed rich people.
They estimated that 7.6 million people died prematurely because of high blood pressure in 2001, with just over half of all strokes caused by the condition.
More than one-third of all deaths in the lower-income countries of Europe and central Asia were related to high blood pressure, Dr. Carlene Lawes and colleagues at the University of Auckland in New Zealand reported.
"Overall, about 80 percent of the attributable burden occurred in low-income and middle-income economies, and over half occurred in people aged 45-69 years," they wrote in their report, published in the Lancet medical journal.
They used data from the World Health Organization's Global Burden of Disease Study to calculate that 418,000 people died of stroke and 109,000 died of hypertensive disease in 2000-2001 in high-income countries.
In low- and middle-income countries they calculated 2.5 million stroke deaths and 598,000 hypertensive disease deaths. There were many more deaths from other types of heart disease caused or worsened by high blood pressure, they added.
"Rates of disease are generally much higher in developing than in developed countries -- for example, age-specific stroke rates in Tanzania are about three to six times higher than those in the UK," they wrote.
"Most of the disease burden caused by high blood pressure is borne by low-income and middle-income countries, by people in middle age, and by people with lesser degrees of high blood pressure. Prevention and treatment strategies restricted to rich countries or individuals with hypertension will miss much blood-pressure related disease."
High blood pressure is usually diagnosed when readings reach 140/90, with a reading of 115/80 or 120/80 being considered pre-hypertension.
(Reporting by Maggie Fox; Editing by Xavier Briand)