Denim Being Recycled in Earnest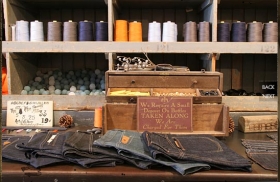 This week, US jeans labels the National Jean Company and Earnest Sewn will host a fashion to kick off a five day charity initiative which will result in old denim clothes being recycled into cotton insulation.
The fashion show will take place at Slate Lounge in New York where entry to the show will require the donation of an old pair of jeans. Consumers will also be able to donate denim clothes at the National Jean Company's New York stores from 8 – 13 April.
Donated jeans will go to the 'Cotton. From green to blue' project run by Cotton Inc., which is an environmentally aware initiative where denim is recycled into 'UltraTouch' natural cotton fibre insulation and is donated for rebuilding houses in the hurricane-affected Gulf Coast region.
Continue reading Denim Being Recycled in Earnest