Protests in San Francisco before Olympic torch run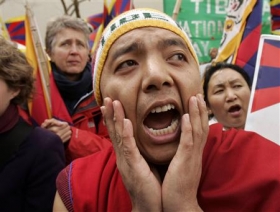 By Adam Tanner
SAN FRANCISCO (Reuters) - Several hundred supporters of Tibet marched through the streets of San Francisco on Tuesday to criticize China before the Olympic torch is run through the city the next day.
"Shame on China," chanted the protesters, many carrying Tibetan flags and signs, as they marched through the streets.
They also protested outside the Chinese consulate.
San Francisco Mayor Gavin Newsom said he had been in contact with French and British officials to gain insight on how the city should handle protesters.
"It won't surprise anyone what we are concerned about. Just look back on your old tape, the last 48 hours," Newsom said, referring to footage of disruptive protests during torch runs in Paris and London.
"I'm not naive to the challenge associated with this event," the mayor said.
Many human rights groups have mobilized in San Francisco, the only U.S. city to host the Olympic torch as it makes its way to the games in Beijing in August. Opposition ranges from China's rule in Tibet to Beijing's policies toward Darfur and Burma. Others are concerned with issues such as animal rights.
Actor Richard Gere and South African Nobel peace laureate Desmond Tutu were also due to appear at an evening vigil for Tibet.
"It is fantastic what people have been doing," Archbishop Emeritus Tutu told reporters. He cited in particular three pro-Tibet protesters who scaled the cables of San Francisco's soaring Golden Gate Bridge to hang banners on Monday.
The international torch relay has been protested previously in Greece, Britain and France.
Speaking to San Francisco's World Affairs Council, Tutu said he would not call for a boycott of the Olympics as a protest against China's clampdown on unrest in Tibet, but that world leaders should not attend the games.
"There are times when you are very close to tears," he said of the violence in Tibet.
The protests planned for Wednesday's torch run have irritated some in the city's large ethnic Chinese community, many of whom are proud their ancestral motherland is hosting the global sporting event.
POLITICAL EVENT
Gere, the chairman of International Campaign for Tibet, said China had itself made the torch run a political event.
"Is it appropriate? I think as long as it is not violent, absolutely," he told Reuters. "This is clearly a moment where China wants to be included in the big leagues."
"They had politicized this, extraordinarily. I think if they had not closed up Everest, decided to run (the torch) through Tibet, this probably would not have happened."
Argentine activists said they planned surprise actions in Buenos Aires when the Olympic torch passes through there on Friday. Organizers told a news conference they would not try to snuff out the torch's flame, as demonstrators had in Paris and London.
"I want to announce that we will not put out the Olympic torch," said pro-Tibet activist Jorge Carcavallo. "We'll be carrying out surprise actions throughout the city of Buenos Aires, but all of these will be peaceful."
In Washington, the U.S. House of Representatives was expected to debate a non-binding measure late on Tuesday calling on Beijing to end its crackdown in Tibet.
The measure also would encourage China's government to enter direct talks with the Dalai Lama on finding ways to respect Tibet's culture, religious identity and "fundamental freedoms."
When asked whether Bush was considering boycotting the opening ceremonies, as suggested by Sen. Hillary Clinton, a Democratic presidential candidate, White House spokeswoman Dana Perino said his schedule had not been fixed.
"The key part of what the president can do as the president of the United States is before, during and after the Olympics, push very hard for increased human rights, press freedoms and political freedom in China," she said.
Pressed further on whether Bush's decision to attend the Olympics could be affected by developments, she said: "The president can always make a change. But the president has been clear that this is a sporting event for the athletes, and that pressuring China before, during and after the Olympics is the best way for us to try to help people across the board in China, including Tibetans."
(Additional reporting Jim Christie in San Francisco, Richard Cowan in Washington and Luis Ampuero in Buenos Aires, editing by Patricia Zengerle)