Fifty-four Myanmar migrants suffocate in container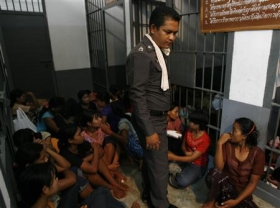 By Vithoon Amorn
BANGKOK (Reuters) - Fifty-four illegal Myanmar migrants, most of them women, suffocated as they were smuggled into Thailand in a cramped seafood container, police said on Thursday.
Another 67 were rescued from the 20-ft container truck, with over 20 being treated in hospital, a police officer in the western coastal Thai province of Ranong told Reuters.
"They were kept inside the sealed truck for hours without air because the air-conditioning system failed. Many of them pounded the sides of the truck for help," Sergeant Phuvanai Wattanasamai said.
Police were hunting for the driver who abandoned the truck on a road near the Andaman Sea coastline, let the survivors out and fled the scene late on Wednesday night.
One survivor said the driver told them the container's air conditioning system was broken.
"It was very crowded inside with standing room only," the 40-year-old migrant told reporters at a Ranong hospital.
"It was hot when the truck started moving, so we asked the driver to turn the air-conditioner on, but he said it was broken.
"The heat made me pass out and the next thing I knew I was in hospital," he said.
More than one million people from neighboring army-ruled Myanmar are estimated to work in Thailand, most of them illegally in factories, restaurants, at petrol pumps, and as domestic helpers or crew on fishing trawlers.
They are usually hidden under goods such as vegetable or fruit in small or big overloaded trucks, leading to tragic road accidents.
Last year a pickup truck with 40 passengers crashed near the northern Thai border, killing 11 Myanmar workers.
Ranong Police Colonel Kraithong Chanthongbai told Reuters the illegal migrants were jammed in the locked container for at least two hours before the driver stopped the truck to let them out.
The truck appeared to be heading for resort towns in the southern provinces of Phang-nga and Phuket, police said.
"We believe this must be part of a smuggling racket which has to be tracked down. The large number of illegals represents a very brazen act," he said.
Thirty-seven of the dead were women. Forty-six survivors were detained for illegal entry and would be deported, police said.
Sompong Sakaew, President of the Labour Rights Promotion Network (LPN), called on Thailand to show compassion for the survivors by allowing them to work in the country.
"They should be treated as victims of a tragedy and viewed as hard-pressed people risking their lives for a better future. The Thai government should acknowledge their plight and provide them the welfare that they deserve," he said.
"Ignoring welfare protection for these illegal immigrants will not help Thailand's image in the eyes of the world."
(Additional reporting by Panarat Thepgumpanat and Nopporn Wong-Anan; Editing by Darren Schuettler and Jerry Norton)