Rhodia sold 10 mln CO2 credits to Japan in 2006-07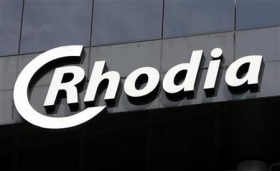 By Michael Szabo
LONDON (Reuters) - A Japanese government agency has bought almost 10 million tonnes of carbon emissions offsets from the Japanese arm of French chemical company Rhodia in the past two years in an effort to help the country meet its targets under the Kyoto Protocol, the deals' facilitators said on Friday.
The offset credits, called CERs, were bought in fiscal 2006 and 2007 by Japan's New Energy and Industrial Technology Development Organization (NEDO) in tenders won by orbeo, a joint venture between Rhodia and investment bank Societe Generale, orbeo said in a statement.
Japan's CER deals are the largest purchases made by a Kyoto Protocol signatory nation to date.
NEDO said it purchased a total of 16.7 million CERs in fiscal 2007, which ends March 31, and 6.4 million in fiscal 2006.
Rhodia Japan signed deals with NEDO in the past two years to sell it 7.94 million and 1.83 million tonnes respectively.
"The 2007 deals makes Rhodia Japan and orbeo the primary providers of Kyoto credits to NEDO, representing some 48 percent its purchases last year," Emmanuel Fages, an analyst at orbeo, told Reuters.
Neither party would disclose the combined value of the deals, but Rhodia said in its most recent earnings report that it sold a total of 13.4 million CERs in 2007 at an average price of 14.10 euros a tonne.
NEDO is the Japanese agency in charge of procuring CERs, which are issued to the projects by the United Nations under the CDM, to help Japan meet its target of reducing greenhouse gas emissions by six percent below 1990 levels between 2008 and 2012.
Japan has said it fully intends to meet its Kyoto targets by purchasing around 100 million tonnes of emissions offset credits between 2008 and 2012.
The Japanese government has also been in touch with Russia and Poland about buying their excess emissions quotas under Kyoto, sources close to the talks said.
CDM PROJECTS
Under the Kyoto Protocol's Clean Development Mechanism (CDM) scheme, rich countries like Japan can meet greenhouse gas reduction targets by buying CERs issued by the U.N. to clean energy projects in developing nations.
The CERs bought by Japan, to be delivered between 2008 and 2013, were issued to two nitrous oxide (N2O) reduction projects at Rhodia's chemical plants in South Korea and Brazil.
The plants, which emit heat-trapping N2O blamed for global warming, produce chemicals used in making nylon. N2O is 310 times more potent than carbon dioxide.
According to U.N. data, the South Korean plant, expected to garner more than 71.5 million CERs by 2012, has received already some 16.4 million CERs to date, making it the top recipient of Kyoto credits from the United Nations Framework Convention on Climate Change (UNFCCC).
Philippe Rosier, President of Rhodia Energy Services, told Reuters in October 2006 these credits cost around 60 euro cents each to generate.
In its earnings report, Rhodia said it is expecting to receive 13 million CERs in 2008, and it has already sold forward nine million CERs of these at an average of 15 euros a tonne.
(Additional reporting by Risa Maeda in Tokyo; Editing by William Hardy)