Years of poor decisions created food crisis: FAO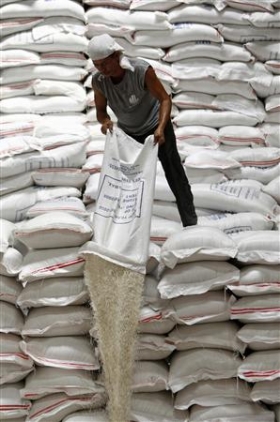 By Crispian Balmer
PARIS (Reuters) - Poor policy decisions over the past two decades have combined to create the current food crisis and resources must now be focused on the 2008 harvest, the head of the U.N. Food and Agriculture Organisation said on Wednesday.
The United Nations has warned that millions of people are threatened by hunger around the world because of the recent surge in food prices, but FAO Director General Jacques Diouf said solutions were available.
"This is not Greek tragedy where fate is decided by the gods and humans can do nothing about it. No, we have the ability to influence our futures," he told a news conference.
"It's a good thing that international institutions .. are helping the poor gain access to food, but on our side we need to fight the most important battle today which is to ensure the 2008 farming season is a success," he added.
Increased food demand from rapidly developing nations such as China, the use of crops for biofuels, global stocks at 25-year lows and market speculation are all blamed for pushing prices of staples like wheat, maize and rice to record highs.
That in turn has sparked food riots in several African countries, Indonesia and Haiti, and the FAO has warned that 37 countries face food crises.
Diouf said the Rome-based FAO had been signaling the dangers for years.
"The situation we are in is the result of inappropriate policies over the past 20 years. Between 1990 and 2000 we lowered food aid for agriculture by half," he said.
Generous farm subsidies in wealthy countries had also discouraged agriculture in the developing world, further aggravating the situation, he said.
"Above all we have not invested in water management in different countries of the third world... In Africa only 7 percent of land is arable," he added.
The FAO has forecast a 2.6 percent hike in global cereal output this year. Diouf said he thought output could be significantly boosted in the coming years if major nations opted to invest in agriculture and agricultural aid.
"We have lacked two things: the political will and resources. I hope that this current crisis will give us the political will and the resources to do things."
(Reporting by Crispian Balmer, editing by Ralph Boulton)