China will not be net coal importer in 2008: association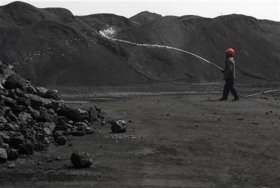 BEIJING (Reuters) - China's National Coal Association denied on Monday the country would be a net coal importer in 2008, citing sufficient reserves, but acknowledged that imports would increase steadily in coming years.
China became a net coal importer for the first time in the first half of 2007, and some analysts expect the country to become a net importer again in the near future, possibly as soon as this year.
The world's top producer and consumer of coal, its booming economy has given it an apparently insatiable appetite for the fuel that already provides more than two-thirds of its energy.
"In the last five years, coal imports have increased three and a half times. And it will continue to increase hopefully in the days to come. The trend will continue," said Wang Xianzheng, president of the China Coal Association.
But asked if China could emerge as a net coal importer again this year, association vice chairman Wang Guangde ruled it out.
"No, it's not possible," he told Reuters on the sidelines of the Coaltrans conference in Beijing, adding that the country's 2008 exports would be roughly equivalent to last year's.
China uses coal because it has relatively cheap and abundant domestic supplies, despite worries about massive pollution and rising emissions of greenhouse gasses, which may already have overtaken U.S. levels.
Demand will keep close pace with output, and is expected to exceed 3 billion tonnes in 2010, when production capacity will be more than 3.1 billion tonnes.
Last year, production capacity was 2.54 billion tonnes versus 1.42 billion tonnes in 2002. Firms are eyeing projects to add 1.10 billion tonnes, of which 200 million tonnes have already been approved.
China is also trying to consolidate the industry, to boost safety and cut down on waste. By 2010 it aims to have 13 "production bases" with 2.24 billion tonnes of capacity, that account for 86 percent of national coal output.
It plans 20 mines with 10 million tonnes of capacity, half of them open-pit and half underground. Up to 8 mining groups will be able to carve out more than 100 million tonnes each and up to 10 smaller groups will have annual capacity of 50 million tonnes.
At the end of last year China had 7,066 large coal companies, of which 34 have annual capacity of more than 10 million.
Since late 2005, 11,155 small coal mines with total production capacity of 250 million tonnes have been closed because of safety and environmental concerns.
By 2010, only 10,000 small coal mines in China with a total of 700 million tonnes of capacity will remain.
(Reporting by Nao Nakanishi and Rujun Shen, Editing by Emma Graham-Harrison)